And Hello to ROSE RIVER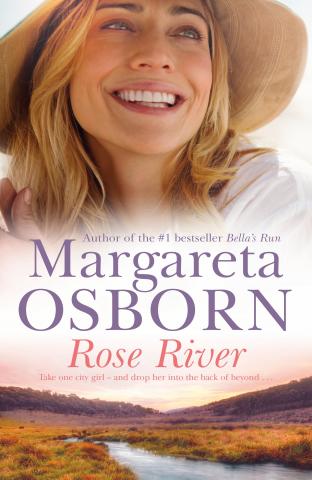 Hello there and welcome to our community at Voice of the Bush. I am feeling lighthearted this morning because, a) my quarterly BAS is done -YAY! and b) ROSE RIVER is finally here!
ROSE RIVER IS HERE & TOUR DETAILS BELOW
We're jumping up and down in great excitement up here in the hills at Glenmaggie, because today, ROSE RIVER, is starting to appear around the country. Yes! It can be downloaded to your ereaders from this morning (I've updated as many of the buy links on the book page as I can find), and it will start appearing on shelves in all major book stores and most department stores (other than KMart). If you don't see ROSE RIVER because it's sold out, please ask for it, especially in places like BIG W and Target. If they don't know you're looking, they can't pass onto their book buyers they didn't order enough!
I also wanted to let you all know - especially those who have read my ebook novella A BUSH CHRISTMAS - that the start of ROSE RIVER is much the same as the novella. Pretty much identical in fact, but hang with me. Reacquaint yourselves with Jaime and Stirling and their adventures at Burdekins Gap, because a short while into the story, you'll be thrown into the explosive and hilarious new adventures of this city girl and her infuriating station manager. I had so much fun writing the rest of this book that I want to sincerely thank all those who wrote to me to ask (and beg

) for the rest of the story. It's been a wild ride.
INSPIRATION
For those of you interested in where the inspiration for ROSE RIVER originated, we have to go back to 2012. I received a phone call from my publisher.
Bev: 'Margareta, have you got anything lying in the back of the cupboard - a story, a book, anything at ALL we can put into an ebook?'
Me: 'Argh ... (gulp) ... nope.' (BELLA'S RUN, a No.1 best seller, was my first novel after a few years studying the craft of writing!)
Bev: 'Do you think you can write me a novella say in, oh, six weeks?'
Me: 'Oh yeah, sure, I can do that (whilst thinking, What am I saying?! I still have to write HOPE'S ROAD!).
Bev: 'Great! I'll contact your agent with the details. This will be fabulous!' Clunk.
Me: Now staring at the disconnected phone and muttering, 'What have I done?' Fabulous? I don't even know what a novella is! A few moments passed. Inspiration struck. I scrambled for the receiver, and rang my great mate Kate Belle (the QUEEN of novella's) and said, 'Kate, in ten words or less, how do I write a novella?' (Kate can talk the craft of writing all day

. She gave me the basic outline of 'late in, early out, ten or so episodic chapters in between.' Right. O-kay.
I hang up the phone muttering again 'I like words! How can I possibly tell a story in only 35,000 of them?' and find H at the office door. 'Want to come for a ride on the motorbike?' he asks.
I look out the window. There's a stunning blue sky; it's a bright and sunny picture-book day. I don't want to tell him I've just signed on for a novella as well as the book. I don't want to tell him I'm currently spinning out big time, so I say, 'Why not, I've got nothing better to do ...' (ho hum ...)
H says: 'Deal is though, you're not allowed to think about writing.'
Me: 'Okay.' (Not think about writing?! How can I not think about writing this afternoon?)
We take the motorbike and ride up through the hills, along the incredibly beautiful Macalister River Valley, weaving and gliding our way around hair-pin corners and along riverside straights. My mind is free of anything other than the feel of the bike, my limbs at one with my husbands as we ride through the hills. It was truly inspiration from the elements because as I rode I intuitively started to plot my novella about Jaime Hanrahan. How she would come to rural Burdekins Gap and her hilarious adventures there.
We reached home after a few hours away, and as we took off our helmets H said to me with a grin, 'What were you thinking about for the past few hours?'
I didn't have to say a word. He just knew. H is like that.
The novella went on to be a #1 best seller on iTunes, and was a finalist in the prestigious, Romantic Novella of the Year Award.
And now it's the basis of a full-length print book called, ROSE RIVER.
From small things, big things grow.

ROSE RIVER BOOK TOUR
Exact details of my book tour are still being finalised but I can tell you where I will be in the next few weeks. If you're nearby, or even if you have to travel aways, I'd SO love to see you, say gidday and maybe even sign a book.
Sunday March 1, 2015 - ROSE RIVER Book Launch - Blue Gables Winery, Upper Maffra West. All welcome! Info here
Monday March 2, 2015 - Dymocks, Albury, 6.30pm
Tuesday March 3, 2015 - Grenfell Library 12.30pm
Wednesday March 4, 2015 - Oberon Library 10am & Mudgee Library 3pm
Thursday March 5, 2015 - Wellington Library 12pm & Dubbo Library 6.30pm
Friday March 6, 2015 - Griffith Library 1pm
Saturday March 7, 2015 - Jugiong Writers Festival 9.30am & Australian Romance Readers Convention, Canberra - Book Signing 4pm
Sunday March 8, 2015 - Australian Romance Readers Convention, Canberra Panel - 'Small Town Seduction' 2.30pm
Wednesday March 11, 2015 - Warragul Library 12.30pm & Readers Emporium, Traralgon 6.30pm
Tuesday March 17, 2015 - Waurn Ponds Library 12pm & Collins Booksellers, Ballarat 6.30pm
Wednesday March 18, 2015 - Horsham Library 12.30pm & Hamilton Library 7pm
Thursday March 19, 2015 - Warrnambook Library 12pm & Colac Community Library 6.30pm
Friday March 20, 2015 - Gisborne Library 2.30pm & Collins Booksellers, Fountain Gate 6.30pm
Thursday March 26 - Sunday March 29, 2015 - Lardner Park Farm Field Days, Warragul/Lardner Park
Saturday May 2, 2015 - East Gippsland Farm Field Days with Collins Booksellers Bairnsdale
LARDNER PARK FARM FIELD DAYS
So delighted that I'm getting to catch up with all my old friends at Lardner Park. Please call by, say hello and pass the time of day. We are in our usual spot in the General Interest Pavillion GIP 17. Just look out for our red and white gingham table cloths and me sitting at my lovely signing table (with my spare barstool so you can rest your weary 'hill climbing' legs) . We have a great field day pack to give away with every ROSE RIVER sold (subject to availability) thanks to my fabulous publishers, Random House and Collins Booksellers, Sale. There's also a fabulous giveaway on offer - one of three book packs to some lucky ROSE RIVER buyers! AND I have balloons for the kids this year, so if you want to see me huff and puff and go all red in the face from blowing up 300 balloons ...

Don't leave your purchase until late Sunday afternoon or there mightn't be anything left!

Have a great week!
Margareta x