Bucket Lists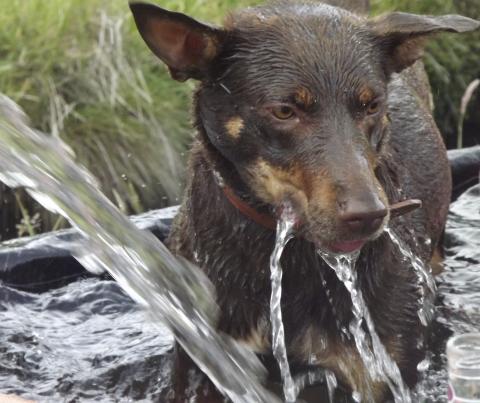 Today up here on my hill at the Glen, I am very excited, and I'll admit a tad nervous. Why?
Towards the end of last year, I did what a lot of people around Australia do. Thought about what was on my bucket list for next year - 2015. Then we lost our nephew. H's sister's son. 37 years old, a husband, a father, a son, a brother, a nephew, a workmate, a friend. His story is another blog post entirely so for now I'll just say his death caused me to think again. What was on the bucket list for the next 5 years, 10 years, for my life?
Six things came to mind immediately. I've always wanted to do a writing course somewhere else in the world (preferably with Kate Forsyth as the tutor), go to the Calgary Stampede (I mean, who doesn't!), poke around Scotland & Ireland (because my ancestors once had castles there), complete a livestock management course (so I can pre-empt where the hell those cattle/sheep are going to go before they know themselves), a working dog school (so I can train my own dog to get those cattle/sheep back when they make a break for it) and my motorbike licence (as despite the fact I've been riding longer than I can remember on the farm, I don't have one). On that list previously, was also my boat licence, jet ski licence and a heavy duty truck licence but I've managed to get them. Tick! So that left the the other immdiate six. I'm sure I can add more to the list which will turn that bucket from five litres into twenty, but we'll deal with these first.

Which is the reason why I'm so excited. This weekend my 12 year old son and I will be doing a Neil McDonald Advanced Livestock Management Course. This also incorporates working dogs. TWO things on my bucket list at once! Can you hear me yelling with glee? I'm also scared, nervous, bouncing around like a twelve week old kelpie pup because Neil is one of best trainers in Australia and he is coming to GIPPSLAND! My son and I are both SOOOO excited we can barely sleep.
So guess what I'm doing today (as well as writing this post)? Yep. Cooking. A casserole or some pies to tide us over at the school. Chocolate chip biscuits too, I think. Chocolate today is a must (nerves, you see). And that way we have something to dunk in our cups of tea over the weekend, while we learn about working livestock and dogs. Wish us luck!