Chocolate ... hand me the chocolate, wine and a good book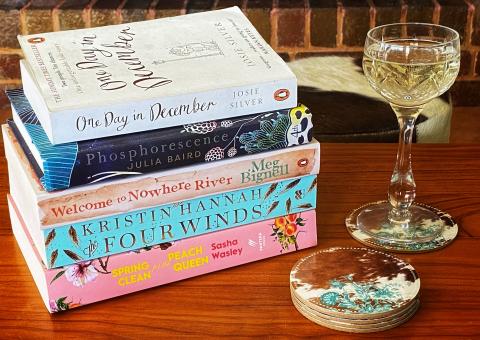 Just when you think life has a semblance of normality, and WHAM! you get to the counter of the local Roadhouse, after hearing of the latest lockdown here in Victoria, and there sitting on the counter are ... chocolate freckles. Oh My Lord. It was like visiting the Tinamba General Store, on a Saturday morning with my Dad when I was a kid, where if I was lucky, Mrs Gray would count out 20c worth of lollies, in a little white paper bag. And if I was really lucky, in the bag would be at least two chocolate freckles. So, on Friday, I stood at a different counter, about 40 years later, needing some kind of comfort thing! And my healthy eating diet went right out the window because I bought a packet of freckles PLUS M & M's and chocolate Peppermint Crisp! Lordy Moses - it was a lolly fest, I can tell you!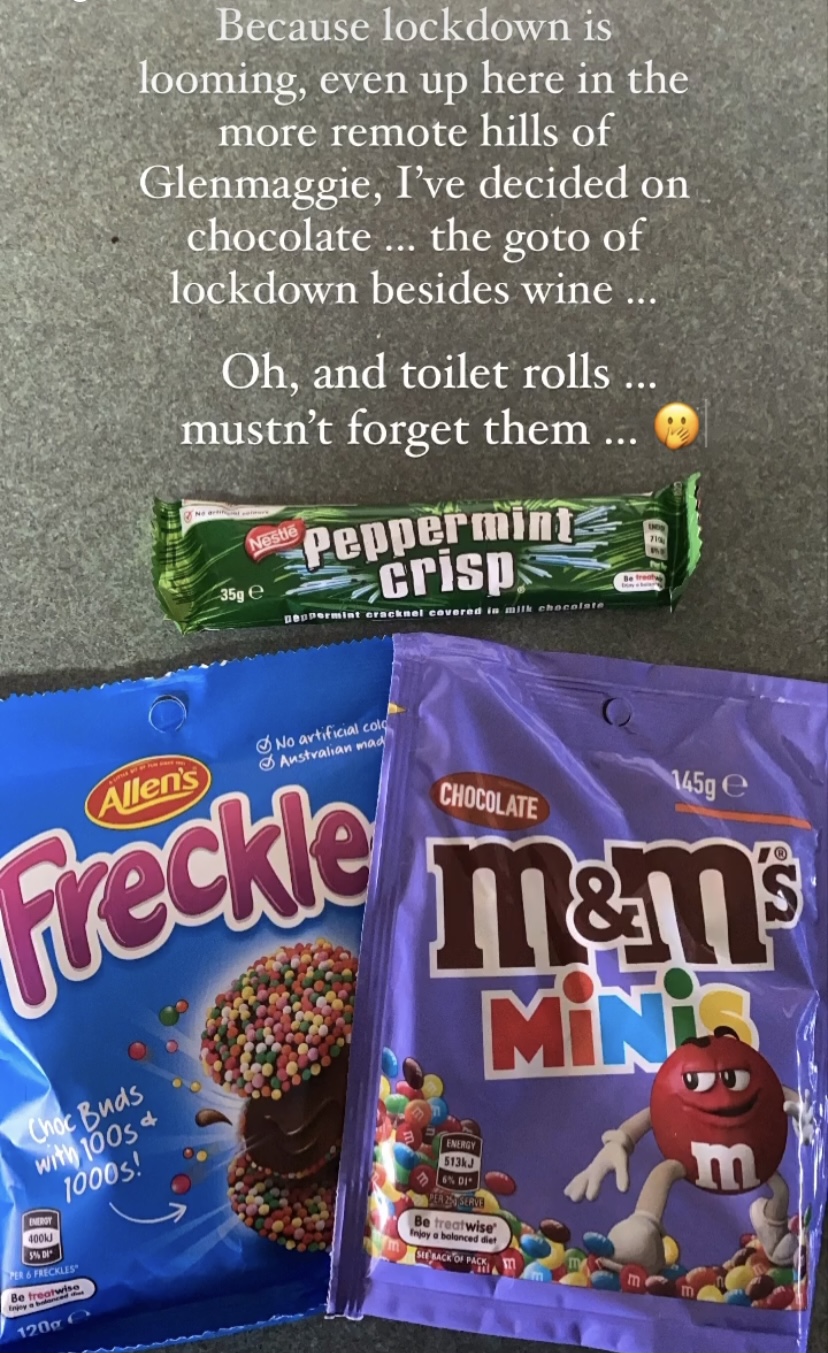 I waltzed back home and, as I do when I'm feeling slightly stressed, I started to bake. In went all the biscuit ingredients, followed by the M & M's. On went the freckles and into the oven it all went. VOILA! M's Lockdown biscuits were born. I thought I'd share the recipe with you here, just in case you too live in Victoria and are locked up with your kids for the next seven six days. I'm here to help, honestly. See bottom of post for my recipe.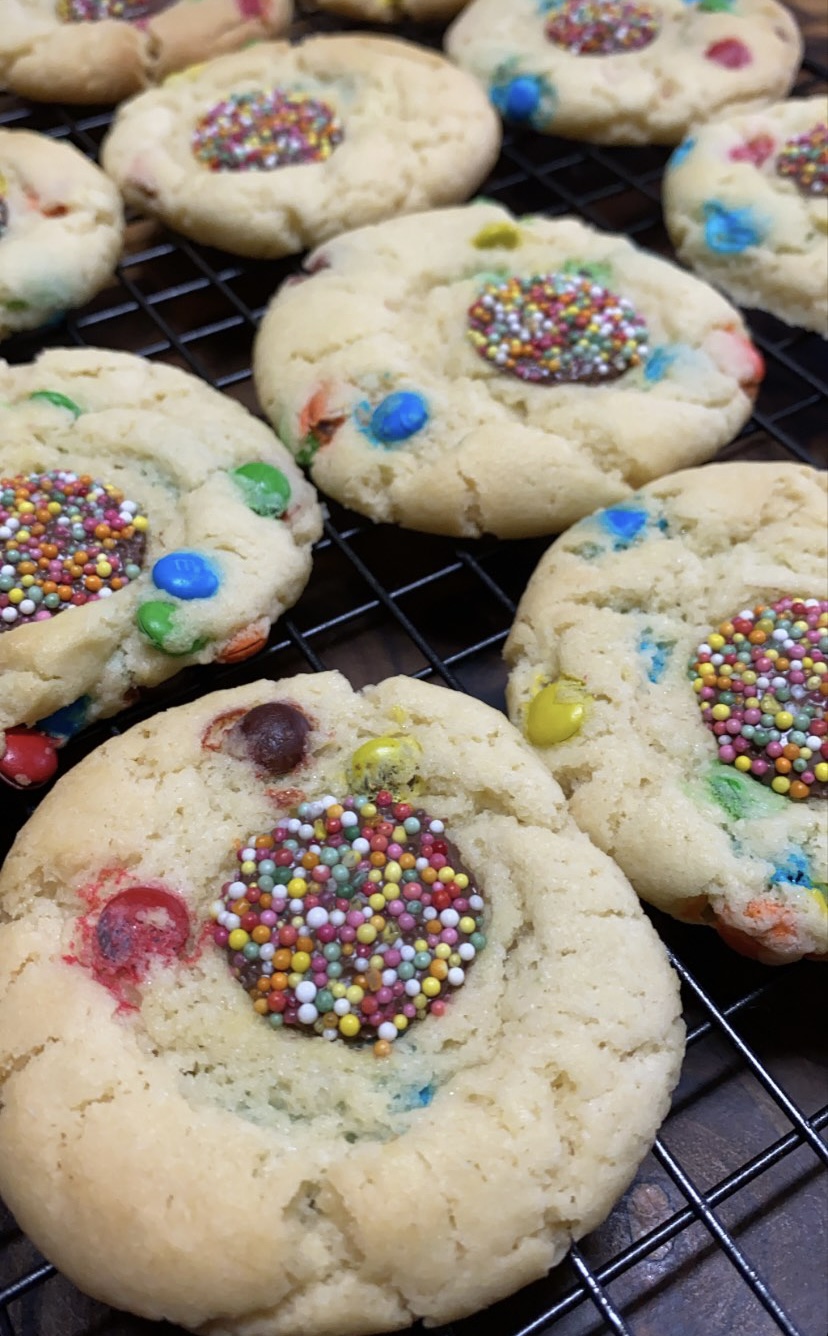 The other thing I did yesterday afternoon was review my TBR pile which, I must admit, is teetering towards being out of control. Despite a plethora of choice, I could not find something to interest my jumpy mind. I simply couldn't concentrate long enough, nor find the right book to give me the 'feel goods' I wanted. SO, I restarted Sasha Wasely's latest book, Spring Clean for the Peach Queen, and didn't regret it one bit. What a lovely, comforting and warm story it is. But, it wasn't that long since I last read it (Easter time), so tonight I think I'll move on. Any suggestions on a warm, comforting book to read? Or even something a bit more edgy - I do like a good action/espionage/Jack Reacher kind of read ...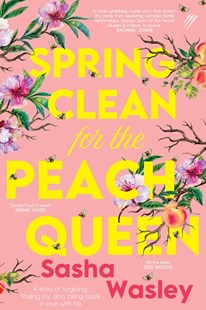 The other thing I picked up was my crochet. I've just cast off my hook (do you use that term in crochet?) a beautiful Aran weight blanket for my new great nephew. (Adding in a 'great' to the word nephew is confronting! Lucky he's the most adorable little baby EVER and I'm a "GREAT!" Aunty :) I was really pleased with this blanket. It's beautifully weighted, warm as toast and the pattern is delightful to create. It's 'Cosy Stripe' from Lucy at Attic 24. I used a chunky yarn from Fiddlesticks in three divine colours - white, mustard and a dark grey.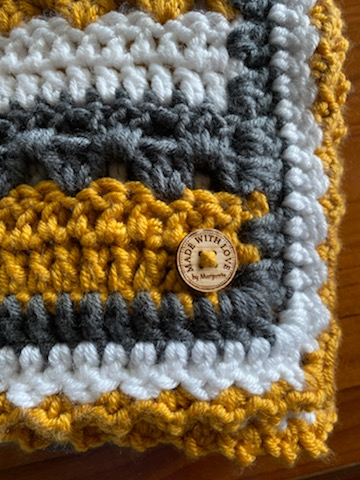 Miss K has now requested one too, but in a beautiful soft pink, white and dark grey. The thing I love about this pattern is it's very rhythmic, easy to remember and do, and the blanket keeps you so warm as you work it up! I find crochet my form of mindfulness. It keeps my fingers busy and my mind active, whilst at the same time, I find it relaxing. H always gives me a hard time about being an 'old granny with my knitting', but he does also help me choose rug patterns and colours when I'm all bamboozled, so I don't think he's that against the whole idea. Crochet is also quite social - it means I can contribute to the family conversations going on around the fire in the evening rather than being shut away in my own world, reading a book. That said, I don't think I'd survive without a book within an arms length.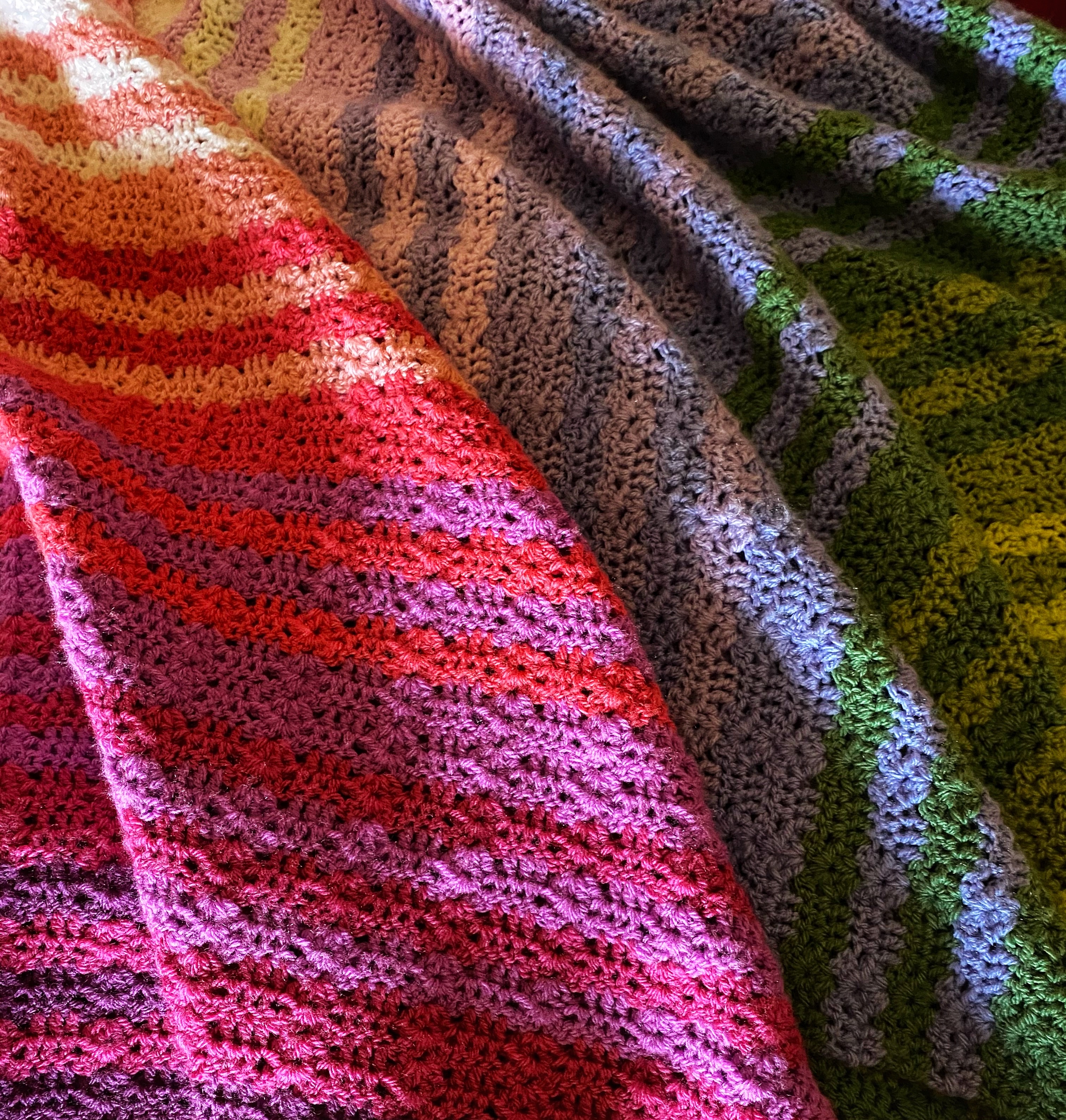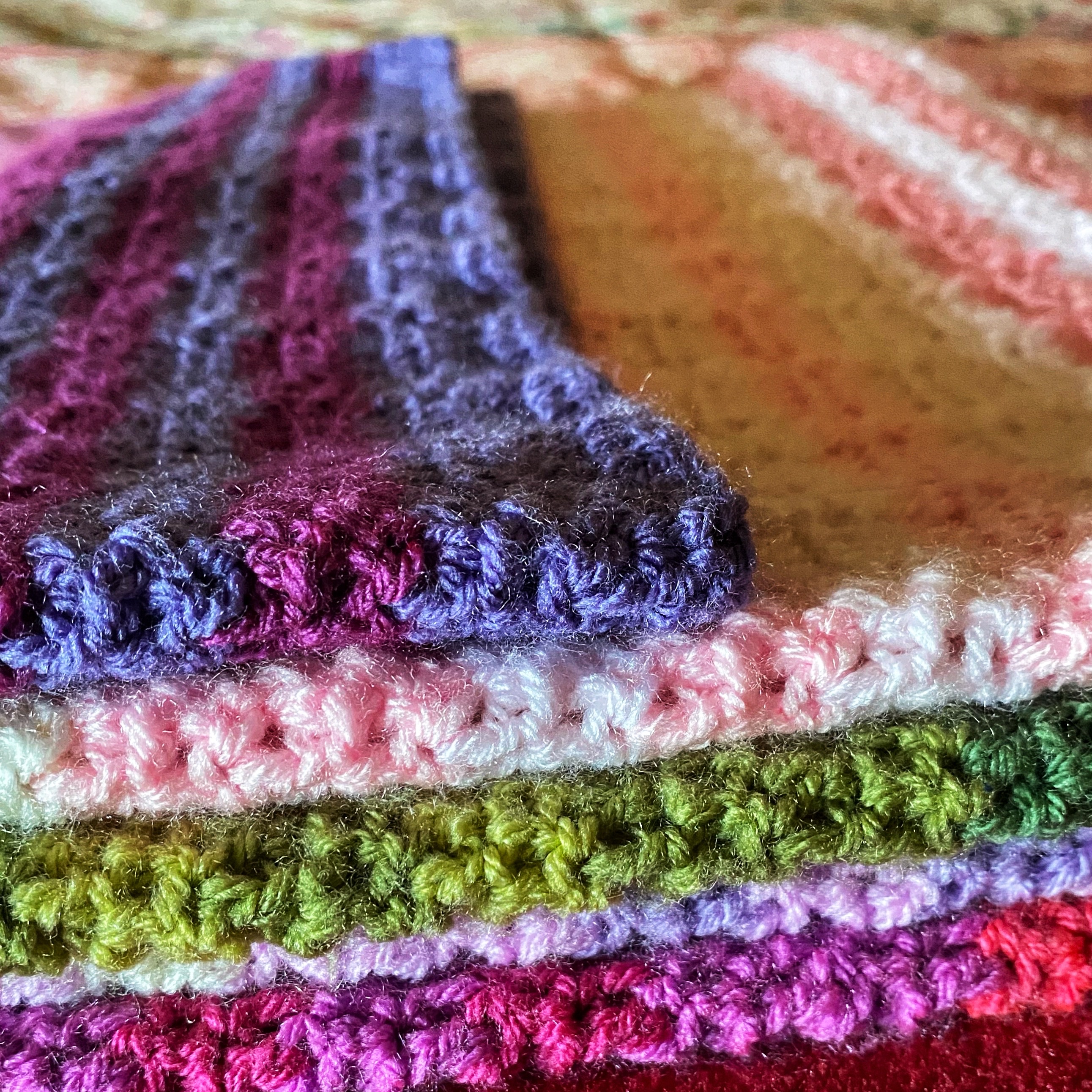 This was a rug I completed last year during lockdown and it has found a home on the end of our bed. I love snuggling under it on those extra cooler nights we've been having as winter slowly makes it's way into the hills. The colours of this cosy rug really make my heart sing, and it's light enough that I can wrap myself in it if I'm having a cuppa in bed early in the morning. I really do look like an old granny then :)
The farm has been busy with cows calving and general maintenance. Nothing much changes with the running of the property during lockdown. Cattle still have to be fed and watered, AI'd and calved down. Fences still have to checked, moved out or in depending on the height of the water in the weir. Life continues outside at it's natural pace - sometimes flat out (calving, weaning, joining) and other times, simply plodding along. We had a couple of new embryo calves hit the ground recently. A stunning pure bred white Speckle Park heifer, and a cracker Hereford bull; both with the very best of Australian and Canadian genetics. It was SO exciting to see these two arrive. We've been wanting another Purebred Speckle Park white heifer for ages. And to get a cracker Hereford bull too. It's a match made in heaven for the commercial beef market!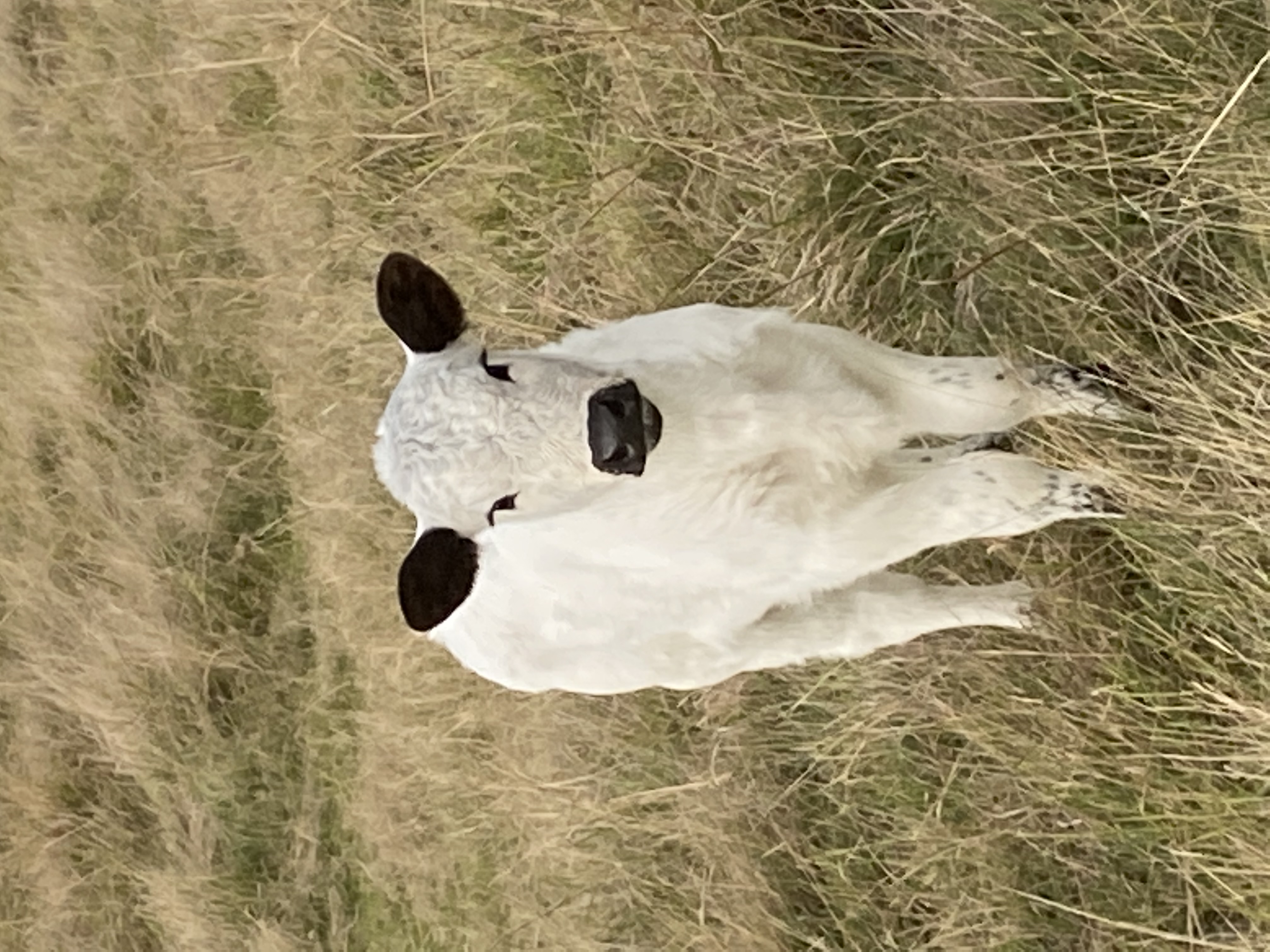 Our eldest is working flat out flying helicopters up in the Northern Territory. Lucky him! He keeps sending me photos of magnificent Katherine Gorge and all the red dirt country he flies over. My heart does a big squeeze, because after our mustering season in the Pilbara a few years ago, I think a part of my soul remains in the red dirt of the north. The fact my first born is flying rather than being safely on the ground probably doesn't help either. But still, he's doing what he loves and we are incredibly proud of all he has achieved. He's really worked hard to live his dream. We're hoping to visit him sometime in the near future and catch up with our family and friends in the Territory. Something to look forward to is always good, I feel. What are you looking forward to? If it's a trip up north and you happen to be in the NT around Katherine this year, look up Nitmiluk Heli touring and take a flight with either Brent or Matt. You'll love it!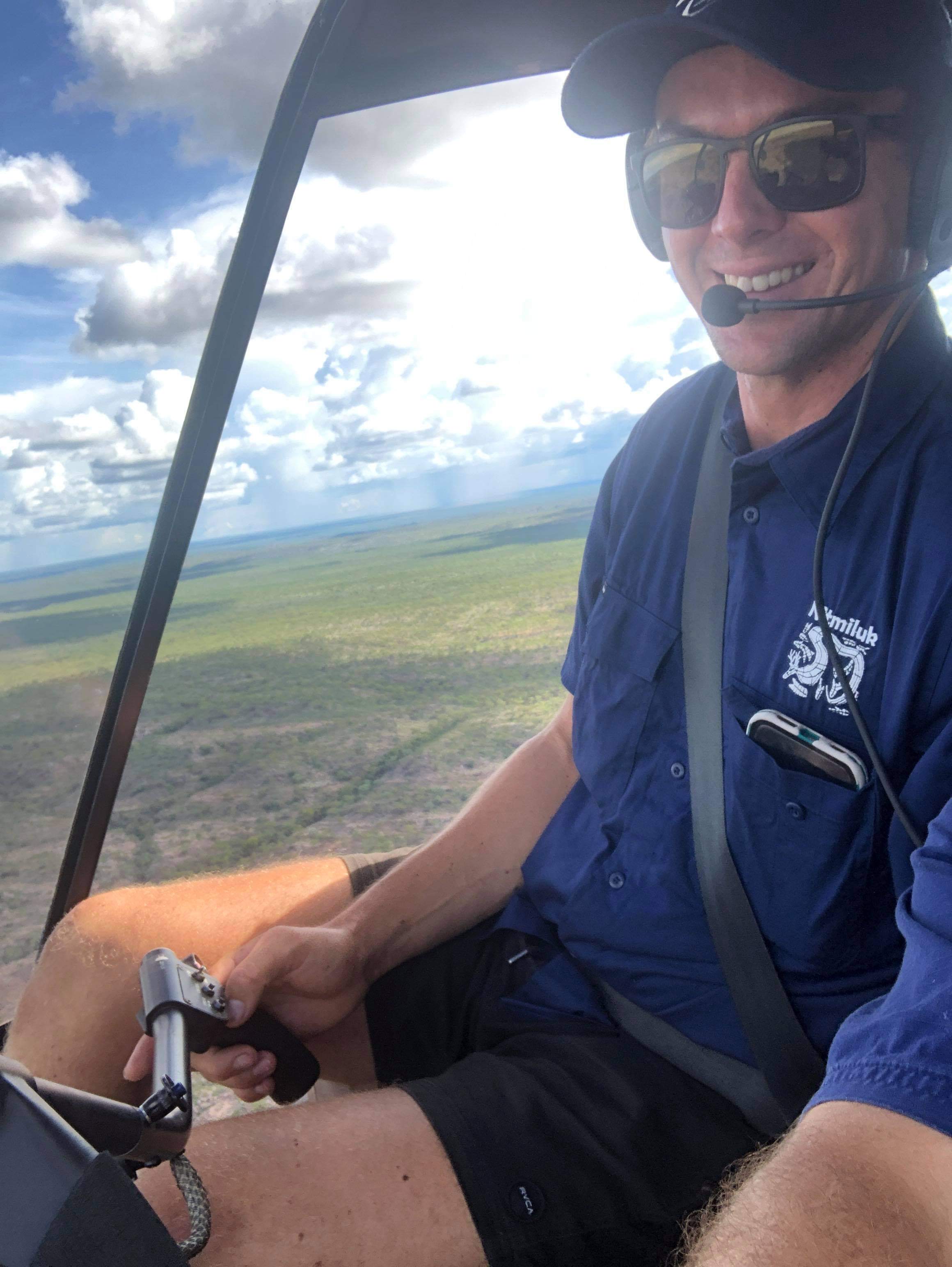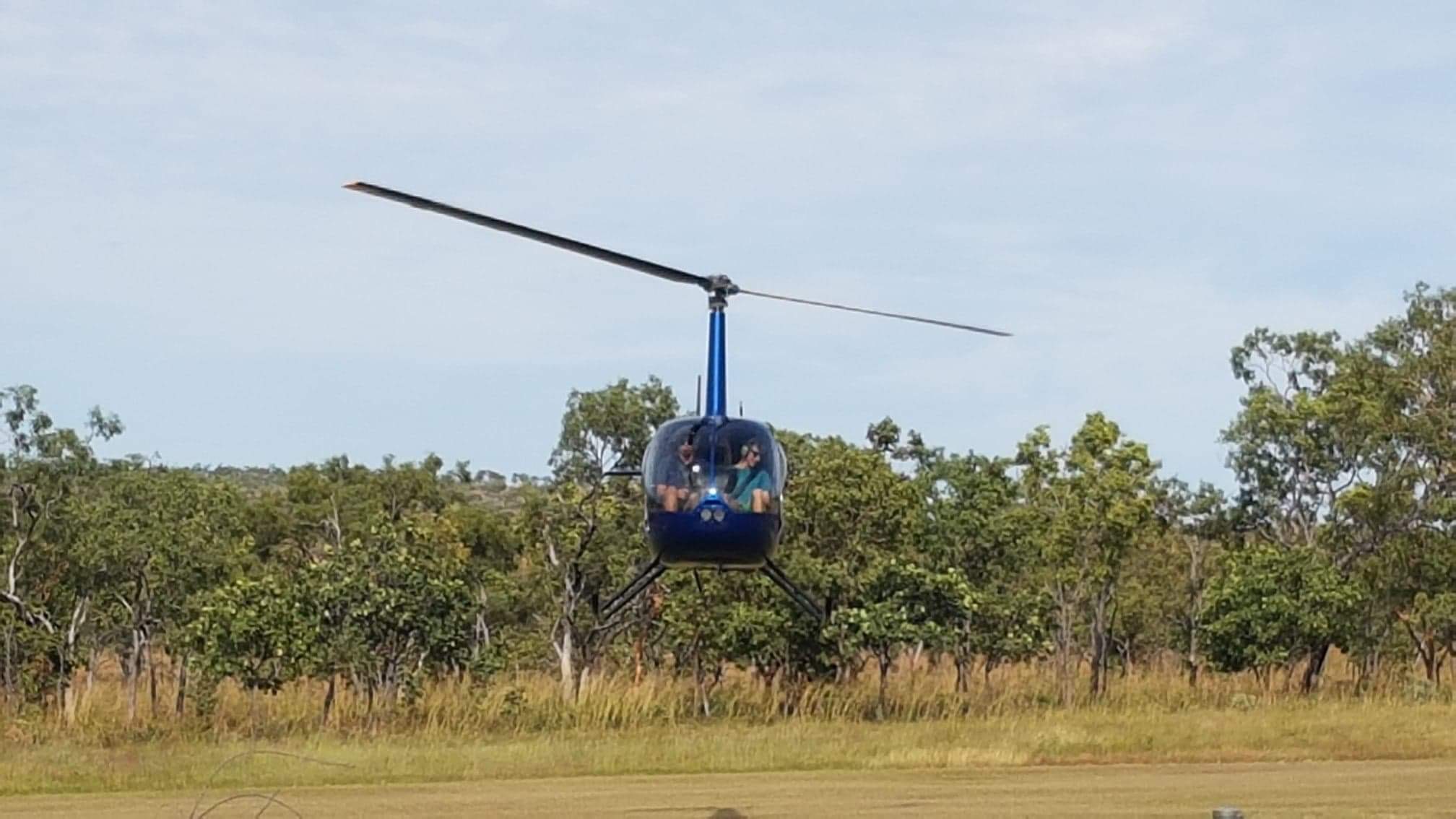 The other two teenagers in the house are about to hit the books with home schooling again. They're both doing VCE, one Year 12 and other Year 11. It's tricky, but we are so very proud of how resilient and hard working they are, despite the challenges of satellite internet and trying to Zoom! 'MUM, it's dropped out AGAIN!' is the catch cry of home schooling at our place, and lockdown would have to be the only time I curse when it rains. The internet really has a hissy fit then! I've been finding little rituals like a 10am cup of hot chocolate complete with it's warm, fluffy foamy topping, is just the thing. Plus one of Mum's Lockdown biscuits, of course ;) I hope, if you get a chance to cook some biscuits too, they give your family the 'feel goods' that come with good, old fashioned homestead baking. And don't forget the chocolate. It's a must. Truly.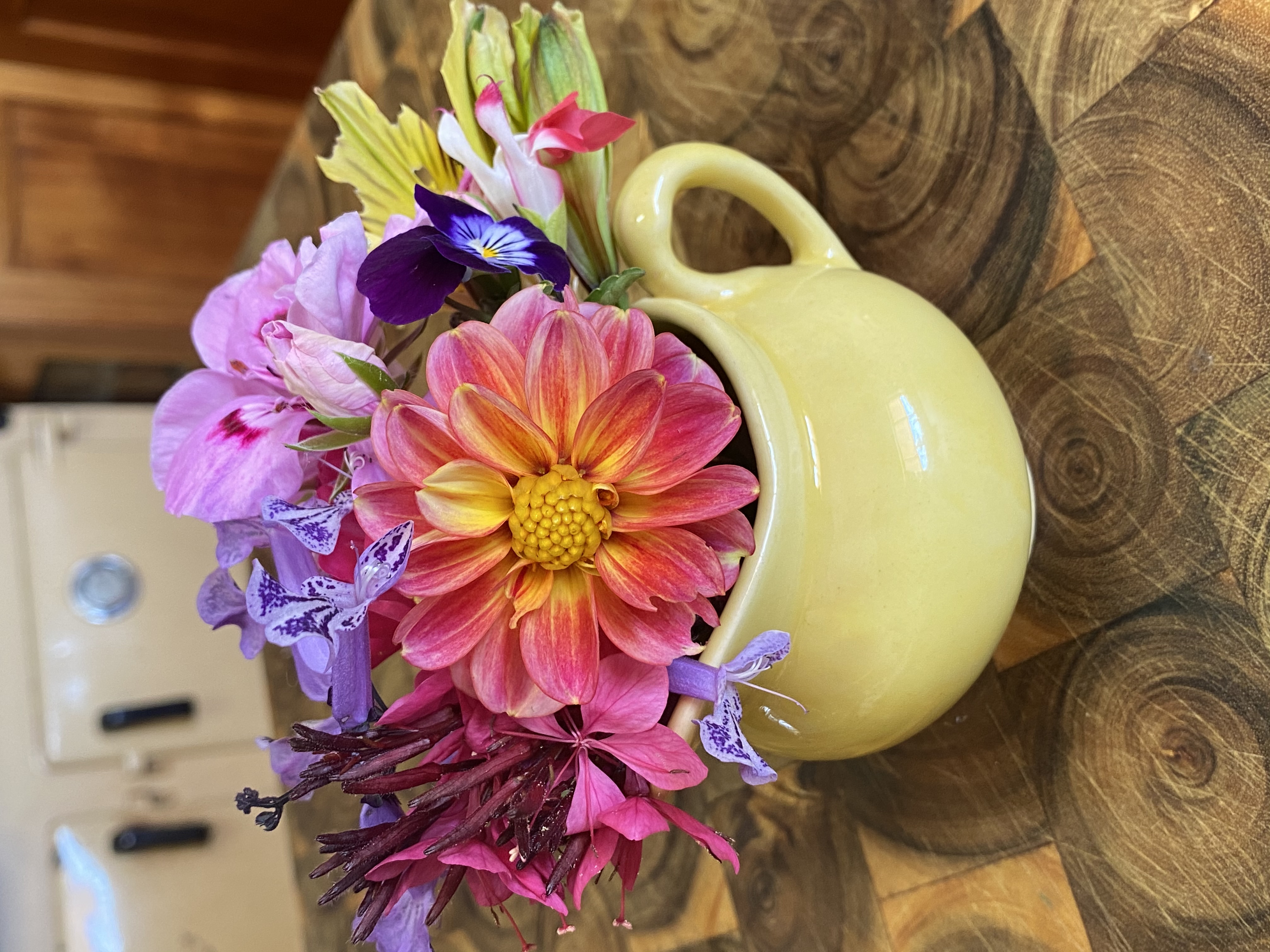 M's 'Lockdown' Homestead Biscuits
125gms butter
1 cup of sugar (I sometimes drop it back a bit to 2/3's cup)
Pinch of salt
Dash of vanilla essence
1 large egg
2 cups of Self Raising Flour
1/3 cup of milk depending on how dry/moist the dough is ...
1 packet of M & M's or whatever addition you want to make. Sometimes I use 100's & 1000's or splinters, or choc chips or chopped up chocolate bars - be creative!
Method:
Cream butter and sugar. Add vanilla and salt. Add the egg. Combine well. Add SR flour alternating with milk. Make sure you mix well. Add your M & M's/Choc chips/etc. Roll mixture into small balls and place on a well greased or papered tray leaving room for the biscuit to spread. If you want to add a freckle to the centre of each biscuit, do it now.
Place in a pre-warmed oven on 160degC for around 12 minutes or until golden and cooked enough for your biscuit loving family. Cool on wire rack.
Enjoy!