Diversion to Dargo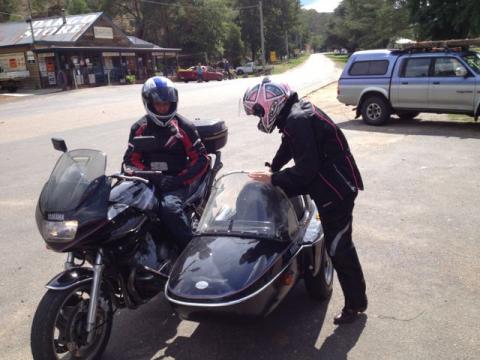 I thought I'd give you a little look at what H and I get up to sometimes when we have a little 'down time'.
Recently my husband's mother's daughter's brother arrived (did you work that one out?  I can try to be so tricky sometimes, I bamboozle myself!) to help us out with a few things on the farm. He arrived up here in our hills on a Diversion 900 motorbike complete with side-car and trailer which has caused great hilarity amongst the family. We've all had rides in it, including my kids, my Dad, my Dad's partner (who's lovely and kinda like my step-mother), my uncle (who feels kinda like my Dad because he's been there for us so much throughout our lives), my uncle's partner (who feels kinda like my step-mother no. 2 because she's lovely and with my uncle …) and numerous others who've happened to come over the cattle-grid at the right (or wrong) time.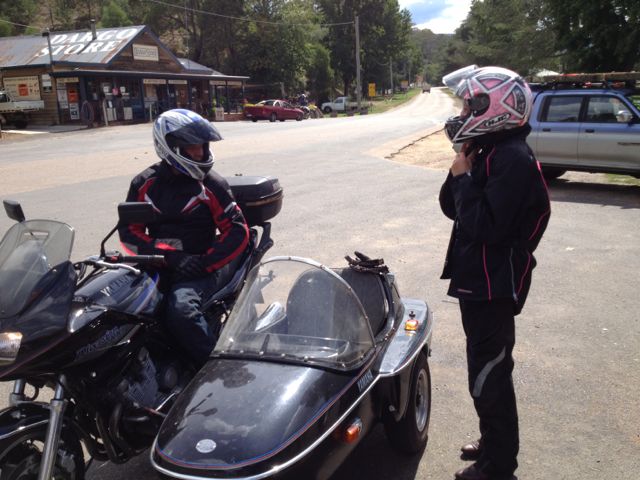 Anyway, the other day after a quick ride over to Dargo on our VTR 1000, it was H and my turn to give the Diversion a whirl.
"You sure you know how to ride this, Hon" I say to the man who has raced road bikes across the length and breadth of Australia.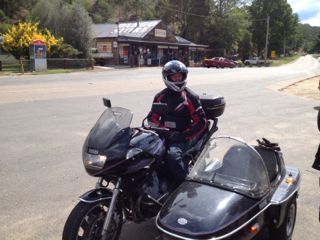 "What are you insinuating?" he says to me knowing full well I trust him with my life. Regularly.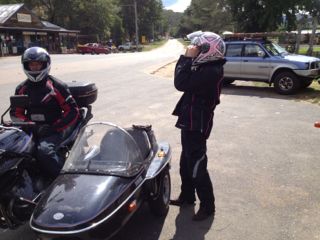 "Nothing! Nothing at all," I reply, thinking, Oh golly, do I really have to get in this thing?!
"If you want to get home," he says reading my mind, "you have to get in. Now. The kids will be home on the bus soon." 14 years together does that mind thing to you.  I just can't get away with anything anymore ... And by the way, whoever recently wised him up on that well used line, 'Where did I get this new top? Why Hon, I've had it in my cupboard for months!' needs to be metaphorically shot. With a 303. Or maybe even a 22-250. Seeing this is metaphorical, I really don't have a preference.
 (I repeat, I cannot get away with anything anymore!)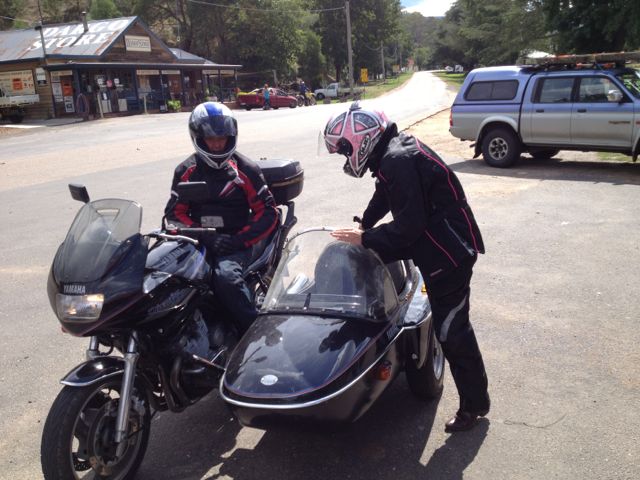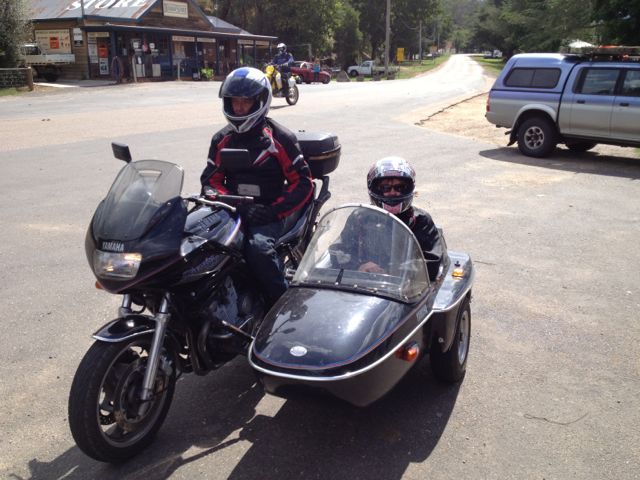 'Okay, I'm in and all set to go.'
(Where's our VTR??!!! Oh, of course, my husband's mother's daughter's brother is riding it
)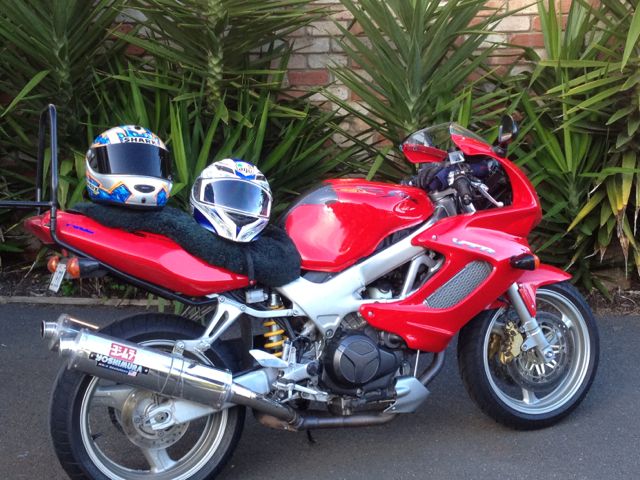 And, despite the bumps and thumps, the ride in the side-car wasn't so bad. Especially around the beautiful hills of Dargo, Castleburn and Glenaladale.
Good enough to even persuade me to give whoever that pesky dibber-dobber was a metaphorical reprieve … Mmmm…. Maybe …