The End (of the year) is nigh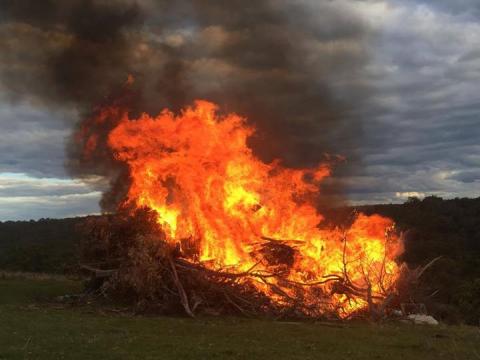 Well, my wonderful readers, how are you surviving the school holidays? Loving every single second of not having to think about nor make school lunches, sort out pickups, drop-offs, sporting events, and 'is it regular or sports uniform today/tomorrow'?
Or are you sick of juggling play dates, sleepovers, nights away 'because we need to do something with the kids for the holidays other than just build cattleyards/novel edits/stay at home'?
Maybe you've been one of the lucky ones filling Facebook, Instagram and Twitter with glorious images of ridiculously blue seas and bright sunny skies found whilst holidaying in the tropics/on a cruise/Fiji/Bali or Phuket.
Or perhaps the closest you've been to sun and sand is Raymond Island … nevertheless … Raymond Island on a sunny day IS rather nice!
The main fact is you are surviving, yes?
I am too. I can't believe next week will hail the final term of 2016. I'm running a mile in the opposite direction to Christmas, refusing to believe the END OF THE YEAR is nigh. How ridiculous. It seems like we only just started 2016 yesterday!
And I don't know what your Oct/Nov/Dec calendar looks like but mine is jam packed already. Particularly glaring is the fact I will have to wave goodbye to the eldest lad who is tripping off to Canada in November, one month after he returns from the NT. Doesn't let the grass grow under his feet, that boy. From 42 degrees to minus 42 degrees in one big across-the-world hike, mid November, I am going to need copious boxes of tissues and Tim Tams, stat, as the lad takes flight. (ARGH! My boy is leaving me again … )
Next up I have some absolutely FABULOUS news! Thanks to all you wonderful and supportive people voting for my books in Better Reading's poll (to find Australia's Top 100 books for 2016), I am absolutely over the moon with delight to announce, BELLA'S RUN was named in the top 100, sliding into place at #71. I cannot believe, four years after publication, our beautiful girl is still running her heart out. Thank you Bella, and thank YOU from the very bottom of my heart, for taking the time to vote for BELLA'S RUN. I am so very, very appreciative.
If you would like to take a look at the list to see how many of Australia's Top 100 you have read and for ideas on what to read next, here is the link: http://www.betterreading.com.au/book_list/australias-top-100-for-2016/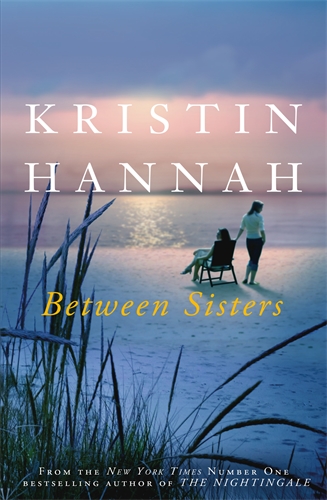 Over the holidays I have also managed to read a book! Joy oh JOY! It was a wonderful book which I'd like to recommend to those of you who love a good family saga with a great plot, engaging characters and a wild ride of emotions (you WILL need tissues). I picked up Kristin Hannah's latest novel, BETWEEN SISTERS, last week in Melbourne at the Collins Street, Dymocks (OMGosh what a HUGE bookstore!) and read it over two days! I haven't devoured a book like that in ages. I'm now on the hunt for her backlist. Isn't it wonderful when you find a new author and there is a multitude of titles to catch up on?!
In the cooking stakes these last two weeks, the only adventurous thing I have done is feed a few people who arrived to help with our bonfire. The fire pile was HUGE and we weren't sure how the first flare-up was going to go. Thus on standby was a fire truck, water cart and slip-on, but thankfully they weren't really needed. The heifers thought it was a blast the next morning though as they could warm their backsides on the remaining coals. It was quite hilarious watching them turn this way then that. Thank goodness they decided roast beef wasn't on the day's menu and eventually wandered off. Even though I have haven't tried out any new recipes but I did come across this delicious looking chicken dish which I have filed for future reference. If you do try it, let us know how it goes!
http://www.chef-in-training.com/2012/09/slow-cooker-bacon-wrapped-apple-...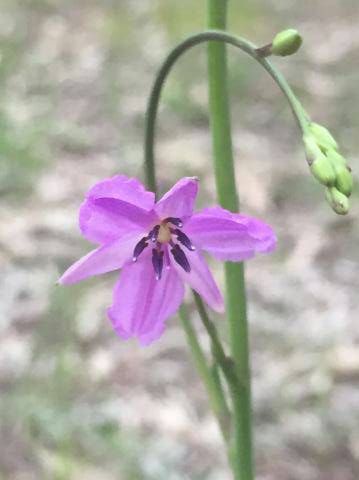 I can also report that on my morning walks I have found the first CHOCOLATE LILLY of the season. I love these delicate little purple native flowers that seem to pop up out of nowhere. When I first discovered we had them up here on our hill, I was beside myself with excitement (it's the Landcare girl coming out in me). After most of my farming life spent on intensively grazed and managed improved pastures, to have chocolate lilies and kangaroo grass on our farm is indicative of how I need to learn a whole new pasture management regime.
Speaking of the farm, thanks to H and the Farm Boy, the cattle yards are going up as we speak. They are looking fantastic and will definitely be WAYYYY too big for our little farm. In fact, I think my father was heard to say we would need to buy up the whole neighbourhood to warrant their size (he also probably thinks WE think we are still in the Pilbara) BUT, as a wise old cattleman once said to me, 'They're better to be bigger than smaller, Margareta. It's no use wishing you'd made them larger later!' I'm taking that remark as gospel and as we have nothing else on this property even resembling a yard, I believe we are doing the right thing. As H keeps telling me, 'Hold hard to your decision.' So I'm holding on tight and refusing to let a little negativity get in the way of something that has been two years - and countless cattle yard inspections - in the planning. "We are modelling ours on a mate's whose yards work really well. He lives in Glenmaggie NOT the Pilbara," and I will keep repeating this mantra, over and over. I think I should also mention something about being a determined, independent country-woman who is bound to make mistakes, but hopefully retrievable ones!
Until next time …
Margareta x