Hello Crosby! & Mother's Day Book idea's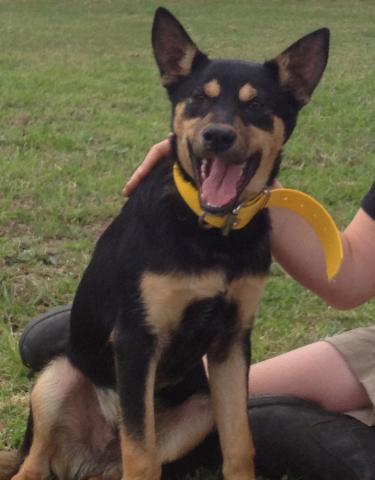 NEW ADDITION TO THE FARM
Say hello to "Crosby" our new 20 week old bundle of Kelpie trouble (I told you all to stay tuned. It's kinda like I knew something, hey?!

)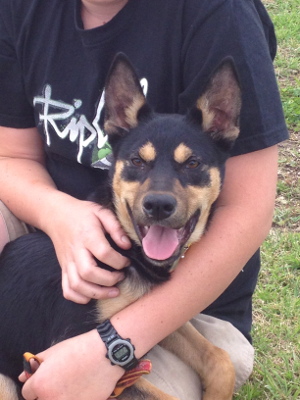 What a big weekend it's been up here on the hill. It all started when H and I organised a Kelpie puppy to be purchased and transported from his owner Helen McDonald (http://www.neilmcdonald.com.au/) at Keith in South Australia to a friend's place in South Gippsland. Next, we told the 12 year old Farm Boy I was taking him and The Princess out of school on Friday lunchtime and down to Buffalo for some working dog training just to reinforce what he'd learnt a couple of weeks ago (you can read about what happened back then here Kelpies, Life and the East Gippsland Field Days). Come in spinner. Two kids soooo excited they were getting out of school early on a Friday, happy to be on a road trip with mum. No questions asked (thank heavens!)
Off we trundled to South Gippsland on a glorious autumn afternoon and there we met Crosby, this beautiful, intelligent, fun-loving puppy who is already starting to work. The Farm Boy was speechless for a few minutes as he dropped to the ground to pat his new best friend, then he looked up at me and said, 'I didn't expect that to happen, mum!' Such a wonderful surprise and of course I was shedding a few tears. Typical. Sigh. Sniff ...Sniff ..
The new arrival is settling in well and no doubt I'll have plenty of 'The Farmboy and his dog' stories to share.
VOTE FOR AUSTRALIA'S TOP 100 BOOKS ...
BETTER READING are looking for Australia's Top 100 books and so, if you've loved one of my books and think it might be worthy of this list, I'd love it if you could click through and cast a vote. SImilarly if there is another book you'd like to vote for, please do. http://www.betterreading.com.au/better-reading-top-100/  
Better Reading says, "The book must be adult fiction. It can be an Australian or international title. It can be a new fiction book, a recent book you've loved reading, a book where the story has lingered or stayed with you, a book you can recommend or a book you read when you were at school."
THE COWBOY EBOOK
Is now available from ALL ebook sellers rather than just Amazon (Kindle). So excited!!!
More buy links are on the book page now: http://www.margaretaosborn.com.au/books/cowboy (Only available as an ebook)
ROSE RIVER NOW COMING IN LARGE PRINT AND BRAILLE
Just in - news that ROSE RIVER will soon be available from the commercial business, READ HOW YOU WANT in both large print and Braille formats. YAY!
MOTHER'S DAY
It's that time of year again when we get presented with those beautiful wonky clay pieces, the decadently drawn & smudged cards, the rolled up and tied with a bow scrolls of artistic endeavor. Love, love, love Mother's Day and I can't wait to see what creations the kids have in store for this year. The Farmboy is promising me something handmade with his Renovator whilst The Princess is secrecy itself 'I know exactly what I'm going to make you mum, and you'll NEVER guess!' The 21 year old just says, 'Don't ask for a book!' I cannot see why asking for a book for Mother's Day around this place is such a crime?! I LOVE books and can think of nothing better than getting a good one for Mother's Day. The kids, unfortunately, say that's B O R I N G so it's usually left up to H to purchase me my hearts desire with the wonderful recommendations of our local book store extraordinaire, Liz Watt.
So, in case YOUR family don't think it's B O R I N G to buy you a book this coming Sunday, my website guru, Karen (who loves to read and review crime novels http://www.austcrimefiction.org), and I have come up with a few books we've read recently which we really enjoyed.
For the sweet lover ...
The Chocolate Promise by Josephine Moon - a lovely romance set in Tasmania which incorporates all things sweet and chocolatey (Is there such a word?)
For the baker ...
The Color of Tea by Hannah Tunnicliffe - a surprise book which I read purely because I love tea. Don't be fooled. It's more about relationships, love and family. Set in Macau, you will also come away craving a macaroon.
For the lover of warm family saga's ...
Hello from the Gillespies by Monica McInerney - I know I recommended this one at Christmas time but I loved this book so much I think it deserves another run. A heartwarming, poignant family saga set in rural S.A. from one of Australia's (and my) favourite authors.
For the book club attendee ...
The Anchoress by Robyn Caldwaller - Rich, strange and thought provoking this book explores a need for connection which is as relevant today as it was in the twelfth century. I came away from this novel thankful I wasn't born back then.
For the historical buff - with a touch of fantasy thrown in for good measure ...
Wild Wood by Posie Graham Evans - From the much loved creator of the McLeod's Daughter's series, comes a riverting read which will have you immersed in the Scottish English borderlands in the times of the Troubles. In this contemporary historical parallel narrative storyline, the historical portions were an absolute winner for me. Brutal yet very real, with a touch of mystical folklore a key part of the tale, I couldn't put this book down (and that wasn't only because one of the lesser main characters shared my name!). 
For the crime lover ... (take it away, Karen!)
A Time of Secrets by Deborah Burrows which is a good combination of crime, romance and history set in Melbourne in 1943. A very atmospheric book which paints a strong picture of both Melbourne at that time, and the sorts of skullduggery that was going on (it's based around a true story of overseas missions going wrong), and because I can (Margareta's not looking is she....) if you're a fan of psychological thrillers Swimming in the Dark by Paddy Richardson. This New Zealander is writing some wonderful thrillers and this story of 3 women has stayed with me long after reading it.
For the rural romance lover ...
Rose River by Margareta Osborn !!! Ha! Of course. Even if you already have my latest novel, you might want to buy one for mum? Random House Australia have a great promotion going until Mother's Day. If you purchase Rose River before Sunday you can get a special 'Say it with words' bookmark to go with your present. Just ask at your local book store and check here: http://www.randomhouse.com.au/blog/this-mothers-day-say-it-with-words-23... for more details. I'd just love it if you could spread the Rose River love.
If everyone already has their copy of Rose River, you might be interested in another rural romance book. There's a plethora of new releases out on the shelves at the minute which you can see by going to http://www.australianruralromance.com  The latest titles for May are The Falls by Cathryn Hein, Heart of the the Country by Tricia Stinger, The Season of Shadow and Light by Jenn J McLeod and Northern Heat by Helene Young.
If I don't get back to you later in the week, I hope you all have a fabulous Mother's Day with the little (& big) people you love,
Margareta x