Jenn J Mcleod on her new book Season of Shadow and Light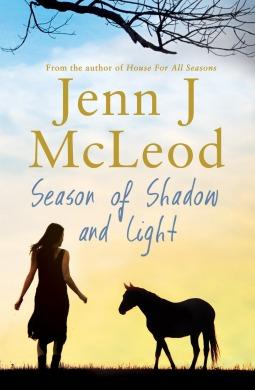 Today I'd like to welcome, Jenn J McLeod to the Voice of the bush. Jenn is a friend of mine who I met through Romance Writer's of Australia. Recently she and her partner sold up their property and fulfilled a lifelong dream of buying a Winnebago and are now writing their way around Australia. I am so envious of all the pictures of the glrious beaches they visit posted on Facebook. What a way to live your life!
Jenn is also the author of three books, House for All Seasons, Simmering Season and now Season of Shadow and Light. She's here today to tell us more about her new book and to give you the opportunity to win all three!
Take it away Jenn ...
The Seriousness of a Smile
Just look at that photo of you, Margareta! You have the best smile, which is why I'm here talking smiles today. The other reason is because one of my Season of Shadow and Light characters, Paige, has a few unusual issues to overcome. Her smile is one.
While researching this story I learned a lot about our little mood metre. Did you know, for example, there is nothing straight-forward about a smile? Genuine or forced, a smile requires considerable muscle activity.
Paige learns this one day from 'rehab guy' while he's manipulating her muscles (and she's wishing she wasn't too old—and too married—to take advantage of lovely Lance with the long fingers. Poor Paige sure could do with a lift given what I put her through in this novel.) When it seems everything she trusts is beginning to betray her, she leaves her husband at home and sets off on a road trip with six year old Matilda and Nana Alice in tow. But stranded amid rising floodwaters, on a detour to the tiny town of Coolabah Tree Gully, Paige discovers the greatest betrayal of all happened there twenty years earlier and that someone knows that truth can wash away the darkest shadows. The question is…
Are some secrets best kept for the sake of others?
With three early industry reviews already in, I am super excited about this story of secrets and love, family loyalty and trust—the kind that takes years to build but only seconds to wash away.
I reckon these reviews are better than chocolate. This one has me grinning from ear to ear.
"Jenn J McLeod delivers her best yet – a winning story of self-discovery, acceptance, renewal and coming home, in a distinctively Australian setting." http://www.writenotereviews.com
Speaking of chocolate and grins . . . Did you know a smile will trigger your brain's reward mechanism in a way that not even chocolate can, with some research suggesting you'll get more pleasure from smiling than from eating 2,000 bars of chocolate. (Ahh, I truly doubt that!) But, as smiling also results in the production of endorphins, or happy hormones—just like exercise does—I'm thinking, Margareta, our smiling while writing could be considered exercise. Therefore the occasional bar of chocolate definitely won't hurt. Right?
Children smile 400 times a day on average, so researchers suggest you will feel happier around children. (Hmm? Not sure about that one either.) But I have to admit I did enjoy creating Paige's six-year-old daughter, Matilda. (Thanks to Author Kate Belle for lending me some of her little Miss Nine quirks and conversations to get me into a 6 y.o. frame of mind!)
The fact that happy adults smile only 40-50 times a day, but on average most of us smile only 20 times, means we could learn something from our children.
If you're looking for ways to smile more, Margareta and I suggest a good book? You'll always find something to giggle over in ours. With practice you'll even notice how smiling will start to affect you and those around you in a positive way. Best of all, your smile can be detected when you write an email, or pick up the phone. People will sense that smile right away. I wrote this blog post with a smile. Can you tell?
How about one of my favourite 'smiley' excerpts—that also happens to involve Lovely Lance. This scene evolved after I read that a researcher in San Francisco identified 19 types of smiles and put them into two categories: polite "social" smiles which engage fewer muscles, and sincere "felt" smiles that use more muscles on both sides of the face.
Excerpt – Season of Shadow and Light
The pair walked in step and in silence, Paige wishing she had dark glasses too. Sunglasses and her big floppy hat would help hide any facial twitch that was, according to Lance—the lovely rehab guy with the lovely hands—common to every liar. He'd offered her some advice the day she'd been lamenting her new lopsided lips.

'On the bright side,' he'd said, 'muscle defects like yours make it harder to detect a lie. You never know when that might come in handy.'

Paige was confused. 'Lying?'

'Maybe recognising a lie in others,' he offered, a little embarrassed.

'Oh, and how do I do that?'

'It's all about how these muscles under my fingers work. Consciously created smiles form differently from natural ones. You've got a little muscle in here—the risorius.'

Paige had wished she could feel Lance's long fingers lazily tracing the small muscle at the corner of her lips, but that part of her face remained numb—unlike the not so numb part between her legs that at that moment was making her want to open her mouth and suck on that lovely long finger.

'I'm probably boring you with the details, Paige,' Lance said, though Lance didn't speak. Lance crooned.

'Not at all. Tell me more. I'm . . . fascinated,' Paige returned, wondering if her mouth had twitched 'Liar' just then.

If it did, Lance seemed oblivious—to the twitch, the lie, and to her inappropriate carnal thoughts about those fingers of his.

'That risorius muscle tends to pull the lip oddly. Not so much up, but sideways.'

'Won't this mouth of mine also mean no one will know if I'm being genuine? I'll simply be sneering at everyone the same way those horrid, grouchy women in the supermarket express queue snarl if you have too much in your trolley. Great!'

He laughed. Lance had a lovely laugh to go with all his other lovely bits. 'No, not what I'm saying. In fact, there's another bright side if you consider the orbicularis oculi muscles that cause crow's feet around the eyes when the zygomaticus major and zygomaticus minor muscles raise the lips of a real smile.'

'Really? And what's that?' Paige asked, pinching back her own smile.

'You won't have as many crow's feet. Well, on one side anyway.'

'Gee, thanks, Lance, I feel so much better after that explanation.'

'Give a guy a break. I'm trying to put a positive spin on things. I want to help you feel good.'

She'd laughed aloud suddenly, actually frightening the hunky hospital worker with the Hollywood looks, who doubled as a personal trainer on weekends.

I'll feel good if you carry me off to bed and make mad, passionate love to me.

She'd settle for a bit more risorius muscle massaging.

Lance's physio workouts had ended up being psychological workouts as well. While the twenty-something year old was way too young for anything other than her imagination, he'd made Paige realise what was missing from her marriage. There was no spark, no surprises, no laughter.

Paige had had few reasons to smile, until landing in Coolabah Tree Gully.
Now, write a comment while you are still smiling and you could be a winner!! J
Win - 3 x Book Pack Giveaway
For your chance to WIN all THREE Jenn J McLeod novels* simply leave a comment below. From now until the end of May Jenn drops into some of her favourite author blogs to say hello to readers old and new. She'll then collect the comment names from each author blog post, picking a lucky winner from one major draw and announcing the name end May on her blog. 
If you'd like to find out more about Jenn and her contemporary women's fiction about small towns keeping big secrets, head on over to her website or, like me, follow the Facebook and Twitter fun.
Website:   http://www.jennjmcleod.com
Facebook: https://www.facebook.com/JennJMcLeod.Author
Twitter:     @jennjmcleod
*Book Pack: House for all Seasons (#5 Top Selling Debut novel, 2013), Simmering Season, and Season of Shadow and Light. (Australian postal address only)
Cheers. I look forward to seeing you at my place soon, Margareta, for my #WriteRoundOz Author Series. www.jennjmcleod.com
Wow, so Jenn's coming to visit us up here on our hill sometime soon. How exciting! We'll see you at the Glen, Jenn. (Oooo and it even rhymes!) Thanks for being at the Voice of bush today.