Making a fashion statement ...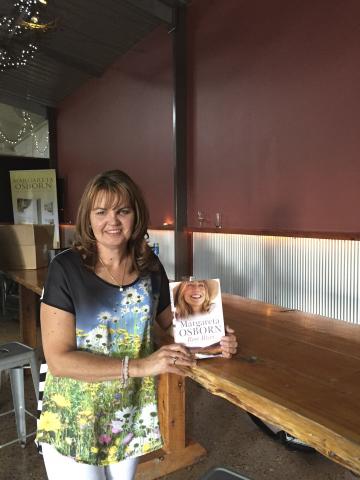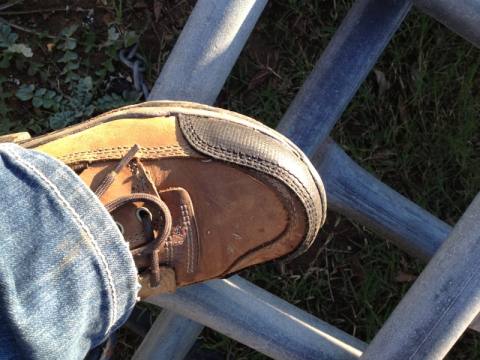 Welcome to Winter!
Brrrrrr ... oh my golly gosh, hasn't it been cold! I swear, on Monday, I couldn't feel my feet ALL DAY! This necessitated a rather radical move. A supremely radical move seeing this family is a 'Redback' workboot family. I went out and bought myself a new pair of work boots! I know ... I know ... such a sacrifice seeing, for me, boots are kinda like books and chocolate - you can never have enough. (Don't tell H I said that. He still doesn't know how many books I actually OWN thanks to a revolving mobile library system that ensures a lot of my novels are out on loan to friends :)). BUT, cold feet? Not an option. Wet feet? Not an option. Uncomfortable - "I surely hope I don't have to trudge up another hill in these bloody boots" - feet. Not an option. And soooooo ... I went and had intense discussions with the lovely Sue at The Stable Door in Sale. Found the pair of boots I have been coverting for the past FIFTEEN years have gotten better and better. SO I sucked it up, and bought a pair. And OH MY LORD, are these things like walking on clouds of soft, fluffy, waterproof bits of nothing. I am in HEAVEN I tell you. Absolute boot heaven. Thank you Ariat, once again. Your Terrain boots are like salted caramel Tim Tams and a Monica McInerney book all wrapped up in a heated, fluffy towel.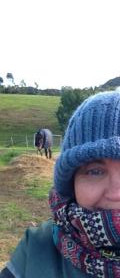 So this morning's fashion statement is brought to you by a bag of second hand clothes from a friend (flannie shirt), Mountain Design Outlet store (puffer vest and bargin rack men's shell jacket), Murray Goulburn (Farmtech Milking vest), Ariat (jeans albeit rather worn and ripped), Fever (yummy scarf), my lovely Auntie Denise (hand knitted blue beanie) and Ariat again - my NEW BOOTS! Aren't they just the trick! Only thing is, the laces are going to drive me nuts but its a small price to pay for comfort.
So whilst many other of your favourite authors may look like they've walked off the cover of the Australian Women's Weekly, Australian Country Style or even Vogue, this author isn't one of them. Just ask the locals. Although, in saying that, I did just get some rather divine author photo's taken and thanks to my goregous stylist Ms Sandra who always makes me feel a million dollars, and a very talented and delightful photographer, Angela Landua, from Danae Images in Traralgon, they didn't turn out too bad. I'll show you next week!
New Book
I started writing a new book this week. Are you excited? I'm excited. After a while of nothing talking in my head (it was truly getting rather depressing just listening to my OWN thoughts) I've now got two books on the go which isn't good for my brain as I don't know which one's talking to me at any one time. When I get 'that book look" (as my family call it) my daughter has taken to asking me, 'Which one is it, mum?' Apparently 'the look' then turns blank. I just hope I don't get my Lake Grace's and Pilbara's mixed up.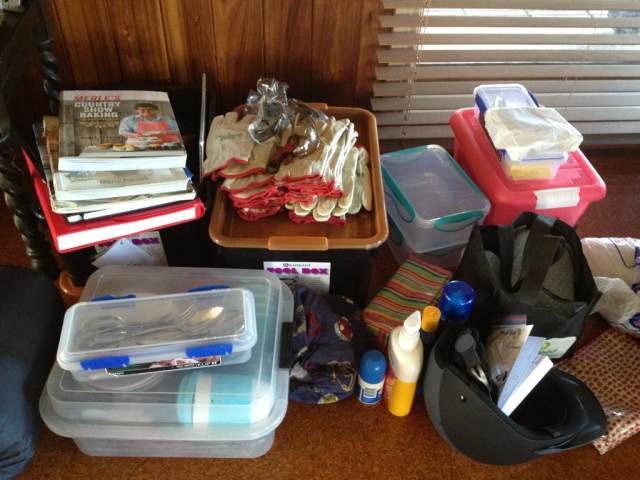 Packing
Despite spending last week thinking I was dying of the flu which necessitated a few days in bed (I know! It was that bad!), we are getting organised to leave for the Pilbara. The LandCruiser could be forgiven for thinking it's having a birthday what with new tyres, mechanical repairs and things that were falling off all secured back on. The heavy duty trailer has also got in on the act with new bearings and such. A dog box is now made and ready for the kelpie complete with roll up blinds should he get a bit hot. All very flash and fancy.
My floor is starting to disappear as I make piles of stuff on the 'must go' list. I'm getting to that point where I'm looking at it all and starting to subtract items (the "it really doesn't HAVE to go pile") because I know from past experience, it just won't fit. And it's actually quite amazing just what little 'stuff' you really need in order to live. That said, H and I have bought new sleeping bags for our swags as the old ones really were on their last legs. Busted zippers, rips and tears - I'm afraid the last trip across the Simpson Desert on the roofrack, finally did them in. My new sleeping bag is pink, which has the Princess throwing it all sorts of looks and I'm guessing if it goes missing, I'll find it in HER swag!
In cooking this week ...
You have to go to http://lilluna.com/creamy-swiss-chicken-bake/ and make this! Oh my, what a simple and absolutely delicious recipe ( and superb for this long weekend). Preparation takes about 5-10 minutes and then whack it in the oven to let the heat do the rest. Perfect if you need to go back outside to feed the animals in the evening - it cooks while you're getting everything else fed and settled for the night. The best kind of recipe, I think.
What I'm reading ...
I have just finished Robert Schofield's MARBLE BAR, a very enjoyable read, with lots of action and all set in the Pilbara where we are heading. Very timely. I'm half-way through a new book by Milly Johnson called THE TEASHOP ON THE CORNER. It's a very light read so while I was sick, just the book I needed as I couldn't concentrate on what I was saying let alone what I was reading!
I also have a treat in store for myself that I've been keeping for our trip across Australia. Tony Parson's latest book, RETURN TO MOONDILLA, came out a little while ago and it's been sitting on my bedside table waiting for a 'holiday' where I can just sit and read (a week across Australia should account for that). Touted by Tony's publisher (Allen & Unwin) as the Father of Australian rural fiction, I would have to whole-heartedly agree. I have always revered Tony after a) reading his CALL OF THE HIGH COUNTRY fiction series which was my second introduction (after Di Morrissey's 'Heart of the Dreaming') to the then embryonic genre and because b) he is a renown working dog breeder and trainer who established one of the top kelpie studs in Australia, 'Karrawarra'. In fact, he was awarded an OAM for his contribution to the propagation of the Australian kelpie. Now in his 80's Tony is still writing, and this is another action packed novel set in rural Australia that will appeal to fans of crime and romance.
The blurb:
Return to Moondilla tells the story of a former journalist, Greg Baxter, who's recently returned to the area he grew up in (Moondilla, inspired by the NSW South Coast) to finish what he hopes will be a best selling novel. Far from being able to concentrate on his novel, however, the successful , handsome writer and martial arts expert is subjected to the attention of some attractive women, including the feisty doctor he once had a crush on. He also finds himself drawn into a police investigation of a lcoal drug-dealing syndicate; After an attempt on his life, and with his trusty German Shepherd, Chief, at his side, Baxter realises his days will be numbered unless he can help the police break the drug ring open...
I spoke with Tony after the release of his new book and here's what we chatted about ...
What was the inspiration for this book:
The pointlessness of drugs and of one man's stand against their use. I had some experience with martial arts a long time ago and used this as a kind of spearpoint for the story. After all their heroics and the development of a virgin country I hate to see Australians involved in drugs. I've said this fairly forcefully in the Prologue of Moondilla.
How it's the same/different to his CALL OF THE HIGH COUNTRY series (which I ADORED by the way)?
Moondilla is quite different to the High Country books. I left Penguin because they wanted to 'box' me in to rural type books and I didn't want to be boxed in. I'd written thousands of articles and transcribed complex material to simpler language when I was with the ag/vet companies (plus written radio/TV commercials) so I was confident I could extend the scope of my writing. 'Back to the Pilliga' was a breakaway novel to a certain extent and 'Return to Moondilla' is a further departure where the bush is replaced by a river and coastal town plus, of course, the drugs. The manuscript of the next novel is with A & U and it's quite different again.
Is the move towards a suspense story something you've always longed to do?
I wouldn't say the move ... is something I've always wanted to do. I regard myself as a storyteller and I think it's important to stretch oneself into new fields. Having said that I've got enormous admiration for Agatha Christie and her crime novels. I would very much like to be able to write something as good as hers. My children's book 'The Bird Smugglers of Mountain View' is another rural suspense story. It's in most of the schools up here and John Williamson likes it a lot and says it should be in every school. He's a bird lover too.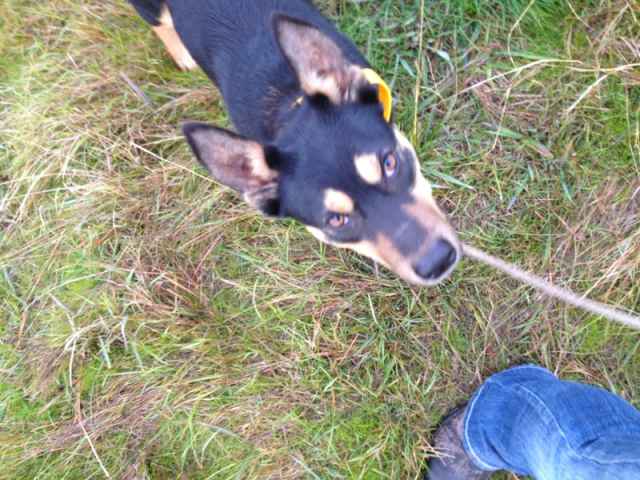 Purely personal, do you still have a keen interest in working dogs? And why the kelpie, not the border collie?
I don't breed Kelpies now. I had 70 years with Kelpies and I think I've done enough in that field. I wrote four books on the Kelpie , The last is a 700 page book which is regarded as the best book on the breed ever written. It's $150 in the shops but it has sold well around the world. Nearly every good working Kelpie has my Karrawarra blood in it.

Why the Kelpie?

It's (with the Cattle dog) Australia's national dog. It has had a greater influence generally than Border Collies even though BCs do better in trial work.
What's next for Tony Parsons?
I would have to be excessively optimistic to look too far ahead regards future books. I'm 84 and I'm assured not many people my age are still writing novels. There's the manuscript at A & U and it's set in the Glasshouse Mountains. It's quite different but I like it a lot. It refers to the demise of the Kabi people with the onset of white civilisation. I wrote some songs for this story one of which was in collaboration with one of my lovely granddaughters. Beyond that is the biggest novel I've written which I am in the process of rewriting. It's the story of the search for a Nazi war criminal. I did a tremendous amount of research for this book and I hope I live to see it published. There's others in first draft but whether I ever get to them or would want to by then, I couldn't say. I don't have my old energy and the body isn't what it was.
Thanks Tony, and good luck with your new book!
In other rural book news ...
Helene Young is touring the east coast with her new novel, NORTHERN HEAT which is on bookshelves now.
Jenn J. McLeod (SEASON OF SHADOW & LIGHT), Tricia Stringer (HEART OF THE COUNTRY) and Karen Davis crime writer - DEADLY OBSESSION) have also been wandering around NSW for 12 days in a bus with BETTER READING, promoting their new books and having one heck of a good time.
Arriving in June is also my friend, Pamela Cook's newest rural novel, CLOSE TO HOME.
These great books just keep on coming ...
Until next week, I'll keep packing and you guys keep reading and stay warm.
Margareta x