Merry Christmas and a festive recipe or two ...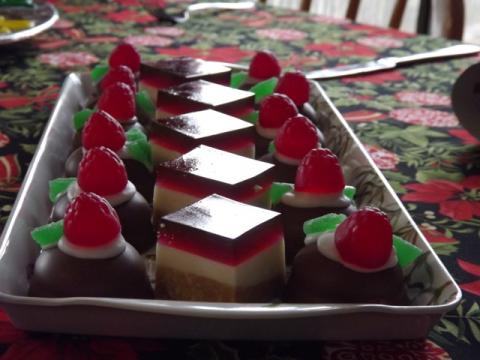 In view of Santa's impending arrival next week, no doubt followed by a hoard of relatives (or even just one or two) for lunch or tea at your place on the BIG day, I thought I'd share two of my most favourite festive season recipes which have seen me through the last couple of Christmas days in great style. They also might help you!
But first I'd like to wish you all the very best for the festive season, a happy and fun-filled Christmas Day and a safe and joyful New Year. I hope 2013 is filled with all the very best of things for you and your family. My family and I, after having a what is usually a wonderful day at my father's property, will head on up into our mountains on Boxing Day for a week or so of brumby spotting, fishing, motor bike riding, horse riding and swimming up on the high plains. We hang out for this break every year, done in conjunction with a whole bunch of like-minded wonderful friends. Think Nunkeri Plains in BELLA'S RUN and you've got the place. 
I would also like to take this opportunity to thank you for your incredible support this past year. Without people such as yourselves, buying and reading my books, I wouldn't have been given the opportunity by Random House to share more tales from the bush.  So for this I send my heartfelt appreciation, and invite you to come say hello in March when we release and tour with the next novel from 'The Voice of the Bush' - HOPE'S ROAD.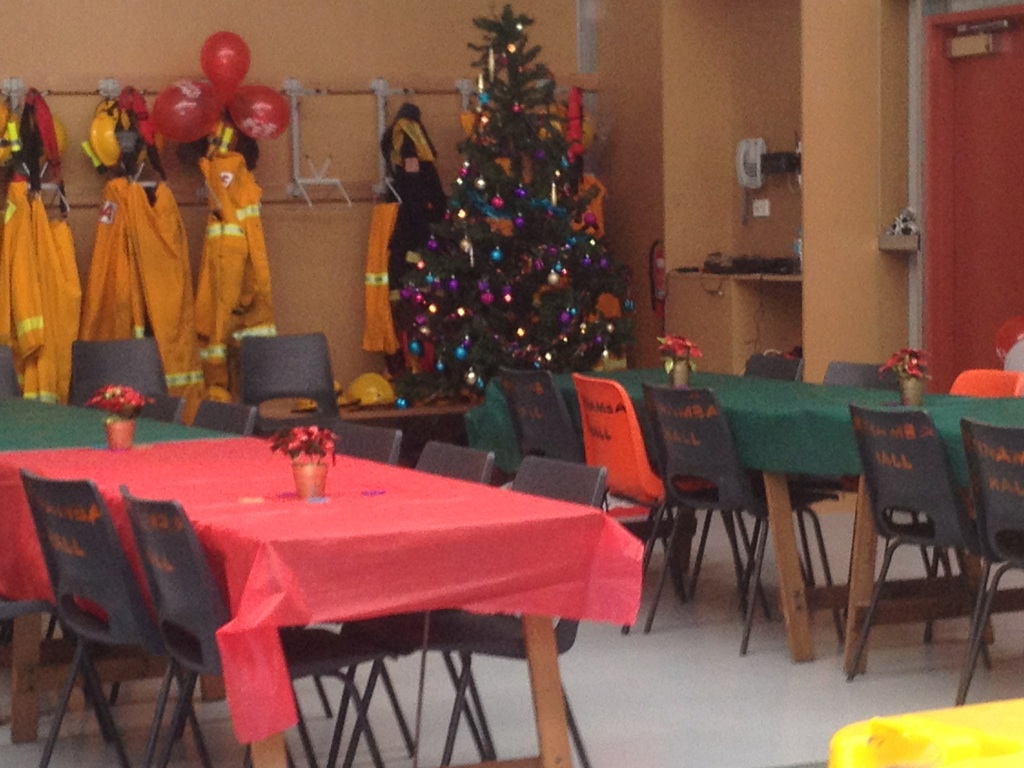 But in the meantime it's back to the real world and a recipe or two. Tonight is our local community Christmas Tree, a tradition that has been going for nigh on a eighty years or so (give or take a decade). Our brand spanking-new CFA station has been draped in tinsel and fairy lights ready to welcome Santa on the fire truck. The Christmas tree is up and the tables ready to groan with the weight of the food.
My contribution to the night will include the old standby Jelly Slice with a festive twist. Here's the recipe ...
Take 1 packet of Arrowroot biscuits (I find these crush better than Marie biscuits) and either vitamise, place in plastic bags and slam with the rolling pin or place under four wheel drive tyre and drive over half a dozen times. Take your pick, just make sure the bickies are crushed into crumbs. Melt and mix 8ozs (or 250gms) of butter in microwave and pour over biscuit mixture. Combine. Press mixture  into slice tray and place in fridge.
Make up one packet of red jelly using 1 cup of boiling water and 1/2 cup of cold water (you can also use 1/2 cup of ice cubes instead if you're in a hurry). MOST IMPORTANT: Add 1 desert spoon of gelatine to jelly mixture before you pour in hot water. This stops the jelly from sliding off the rest of the slice. Place in fridge to cool.
Next, take one can of condensed milk. Open it and try not to lick the lid. Pour into mixing bowl, using a spatula to scoop out the dregs. Boil kettle and while you're waiting, try not to lick that yummy milk off the spatula. (Ooops ... damn, did she say not to?!) Dissolve 4 teaspoons of gelatine in 1/2 cup of boiling water. Add to condensed milk and stir. Add the juice of two lemons. If you don't have fresh lemons, squirt in a generous portion of bottled lemon juice (Yep, I didn't know it came in a bottle either until recently). Stir mixture until thickened. (You can stick in your finger and taste to make sure it's lemony enough. Just saying.) Pour over biscuit mixture that has been resting in slice tray in the fridge. Let both layers set in fridge again for ten minutes or so. Pour red jelly over top and pop tray back in fridge to set.
Now, make up one packet of GREEN jelly using 1 cup of boiling water and 1/2 cup of cold water. MOST IMPORTANT AGAIN: Add 1 desert spoon of gelatine to jelly mixture before you pour in hot water. This stops the green jelly from sliding off the red jelly and making one hell of a mess. Place in fridge to cool. When red jelly on slice is set, gently pour on green jelly and again leave in fridge to set. (There's a lot of 'setting' going on but you can do other stuff in between, like read my novella A BUSH CHRISTMAS on your iPad or kindle why you're waiting. You can read all about the Burdekin's Gap community Christmas Tree. I mean, no one can say you're not doing anything. You're making them jelly slice for goodness sake!)
The outcome of green jelly on red is the slice looks like it's red from the top, but at the side or when it's up against the light you get a stained glass window of festive jelly looking right back at you. It's just beautiful. Especially if you set the slice out on a plate and alternate with Chocolate Royal 'Plum puddings'. (In this picture, chocolate royals, green mint leaves, red raspberry lollies and white icing or white chocolate).
My second hit recipe for Christmas is a Warm Roasted Potato Salad. As soon as it appears, it just disappears!  I was given the recipe by a friend a few years ago so I'm not sure where it came from orginally but man, is this one a goody.
Ingredients:
1 kg or so of chat potatoes, not peeled; 2 tbsp oil; 1 tub of Basil, Cashew & Parmesan Dip; salt & pepper;1/2 red capsicum diced or cut into fine strips; 1/2 salad onion or a couple of spring onions, finely chopped; 2 tbsp lemon juice; 1 bag of rocket leaves (or I use half bag rocket leaves & half mixed gourmet lettuce).
Dressing: 2 tbsp sour cream; 1 tsp lemon zest finely chopped/grated (or some lemon juice if you don't have zest - see below).
Preheat oven to 200 degress celcius. Cook potatoes in boiling water until just tender. Drain. Put potatoes into a mixing bowl with the oil, 3/4 of the Basil, Cashew and Parmesan Dip and salt & pepper (to taste). Toss until potatoes nicely coated in mixture. Line an oven tray with baking paper. Place potatoes on tray. Roast for 20 or so minutes or until golden and crisp.
In a separate bowl mix the remaining dip, sour cream and lemon zest. (If you don't have any zest just add a good dollop of lemon juice.)
Once potatoes are cooked, toss potatoes, their juices and crispy bits with the capsicum, onion and lemon juice. Spread rocket leaves out on a platter, top with potatoes and then the dressing. Serve while warm.
YUM-MY!
Have a faulous Christmas and I'll catch up with you again in the New Year. (I might even have a brumby photo or two to share if we're lucky!)
Margareta  xo