Mothers Day Present Dilemmas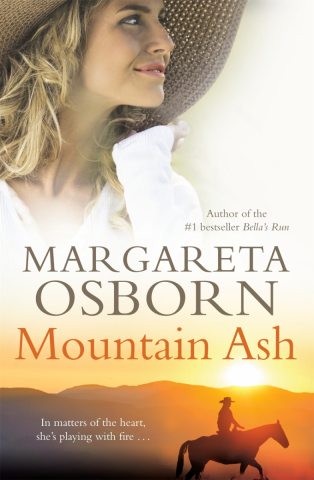 Mother's Day is fast coming upon us and I have been watching a couple of interesting conversations taking place on social media, concerning presents. Some mothers appear to want to be asked, 'What would you like for Mother's Day?' Others think the family should be able to come up with the answer to that question all on their own. Then you have the camp that have specific needs and wants and in all likelihood will secretly take back whatever they're given if it's the wrong item. And then there are those who count themselves lucky and shower blessings on children/husband's who may/or may not remember and acknowledge the event at al!

Which are you?
Which is your mum/ mother-in-law/step-mother/grandmother (because sometimes they're sole mothers to their grandkids too)?
Personally speaking I vary between numbers, 1, 2 and 4.

I have to say, regardless of what occasion it is, I MARGARETA OSBORN un-ashamably LOVE presents. I don't mind if I'm giving them or if I'm receiving them, but I just LOVE the whole present exchange thing and the pleasure that comes with giving/receiving a gift. I don't care whether it's handmade (in fact that makes it all the more special), bought or even borrowed (the 'big-arse tractor' for a days heavy-duty gardening comes to mind here), it's all in the fun of the gift.

This Mother's Day, I know I'm getting some chooks because I've organised that myself.  Three actually. Plymouth Rock's. I'll post a photo when they arrive because I am SOOOO excited. I'm also rather desperately hoping the school my children attend has done their usual yearly creative present making exercise, because I adore anything made with love by my kids. (Yes, even those droopy clay creations that sometimes look like a mug.) I've also dropped a hint (or two or three ... ahem ...) to H that I'm hoping for a book, time curled up at my massive picture window overlooking the hills to read it, and if I'm really, reallly lucky, maybe a few secondhand parts (read windows/walls/doors/anything will do) for the building collection that's going to turn my writers shack into a reality. I'm 'fairly' confident of the book, but not so sure about the bibs and bobs though. He's a tad focused on building his 'big-arse machinery shed' at the moment. #writersshackunlikelyinnexttenyears

Anyway, at your house, if a present is the order of the day AND you're like me and would love a book. Do you want/need a suggestion of which one?

As I did at Easter, I thought I'd give you the heads up on a few friends of mine who have a rural book out on the shelves at the moment.

But ...

First, (she blushes here ...) you could consider giving my book MOUNTAIN ASH to someone you love?  Here's the blurb in case you've forgotten  ...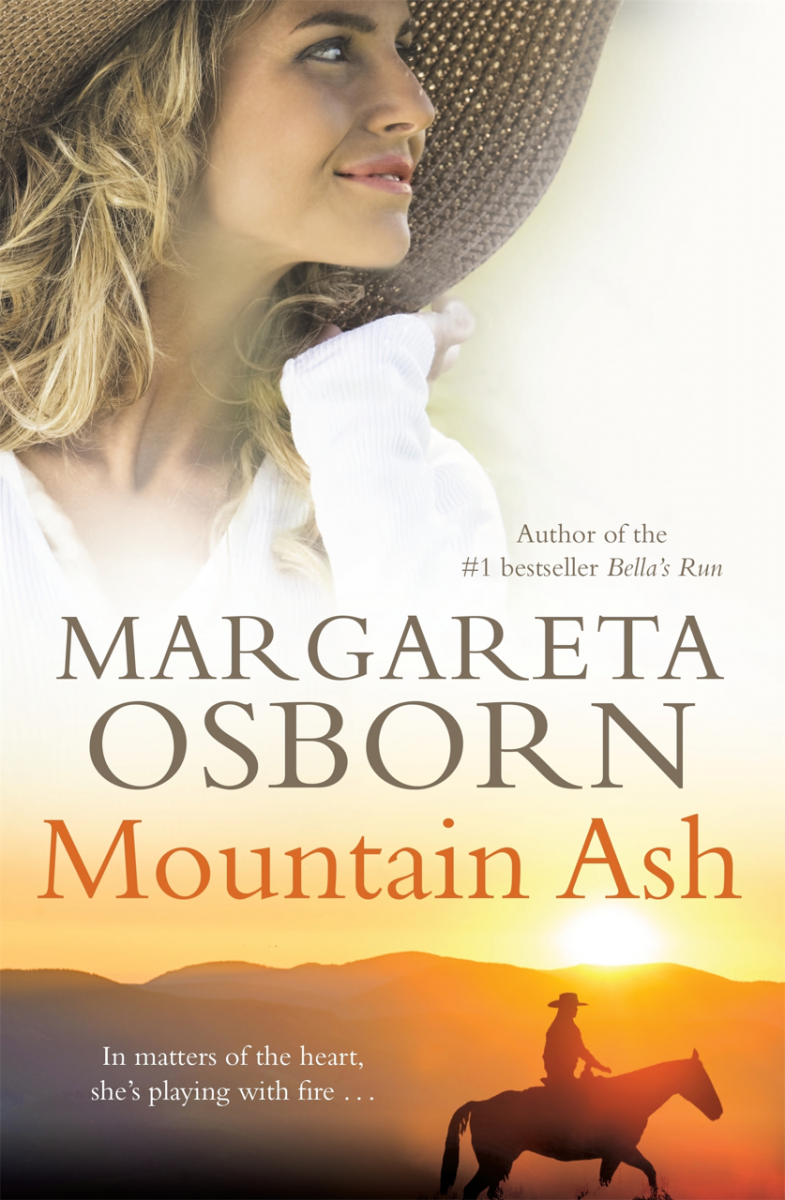 In matters of the heart she's playing with fire …
After years of struggling as a single mother, Jodie Ashton has given up on love and passion. What she craves now is security for herself and her beloved daughter Milly. And marriage to widower Alex McGregor, the owner of the prosperous Glenevelyn cattle station in the East Gippsland mountains, will certainly offer that. If only he wasn't so much older and so controlling.
Needing space to decide her future, Jodie reluctantly agrees to a girls-only weekend at the Riverton rodeo . . .
Meanwhile, stockman Nate McGregor vows off women, after his latest one-night stand costs him his job in the Northern Territory. Perhaps it's time to head back to his family home, Glenevelyn, to check out for himself the 'gold-digger' his father seems determined to marry.
But first, on his way through Riverton, he plans to stop off at a rodeo.
Two lives are about to collide in one passionate moment – with devastating results . . .

Alternatively we have Cathryn Hein with ROCKING HORSE HILL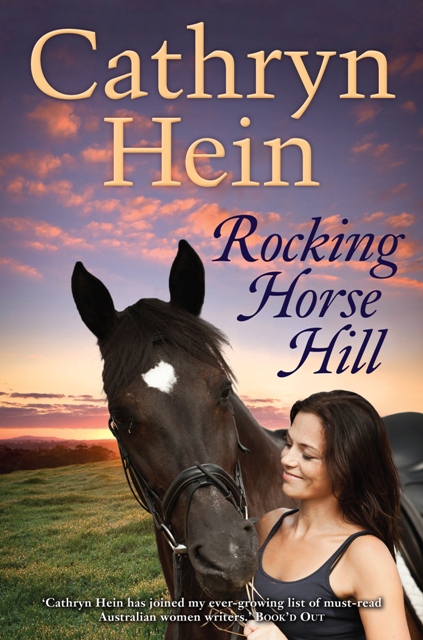 Who do you trust when a stranger threatens to tear your family apart?
Ever since she was a little girl, Emily Wallace-Jones has loved Rocking Horse Hill. The beautiful family property is steeped in history. Everything important in Em's life has happened there. And even though Em's brother Digby has inherited the property, he has promised Em it will be her home for as long as she wishes.
When Digby falls in love with sweet Felicity Townsend, a girl from the wrong side of the tracks, Em worries about the future. But she is determined not to treat Felicity with the same teenage snobbery that tore apart her relationship with her first love, Josh Sinclair. A man who has now sauntered sexily back into Em's life and given her a chance for redemption.
But as Felicity settles in, the once tightly knitted Wallace-Jones family begins to fray. Suspicions are raised, Josh voices his distrust, and even Em's closest friends question where Felicity's motives lie. Conflicted but determined to make up for the damage caused by her past prejudices, Em sides with her brother and his fiancée until a near tragedy sets in motion a chain of events that will change the family forever.
Or Rachael Johns' OUTBACK BLAZE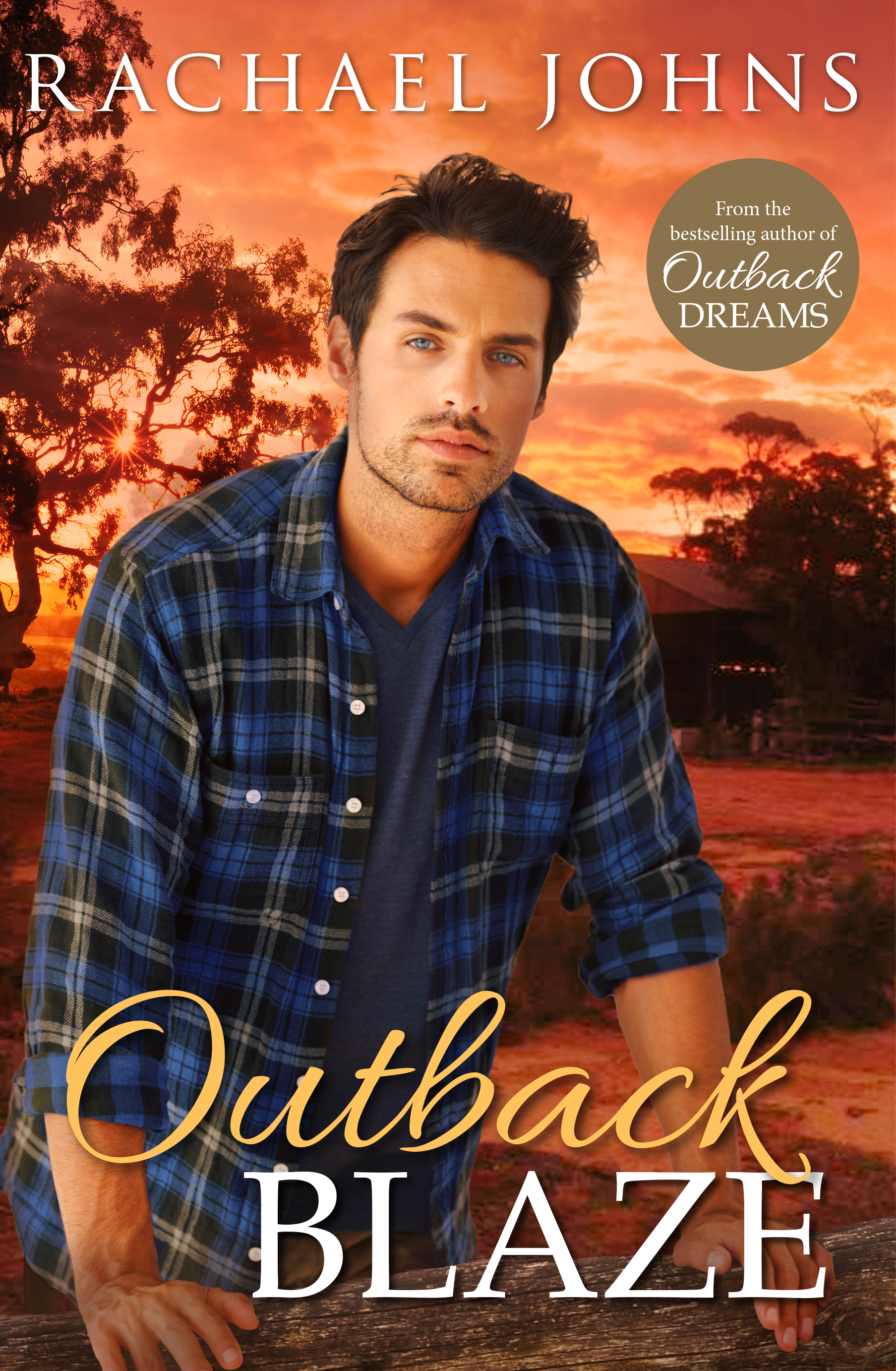 Ruby wasn't looking for love, Drew wasn't looking to stay...until they found each other. Can their fling survive the darkness of Ruby's past and Drew's desire to move on?
Ruby Jones was always an optimist, but the trauma of her past had made her wary. So when she flees to the small rural community of Bunyip Bay to start afresh, she has her sights firmly set on establishing her horse-riding business and rebuilding her life. The last thing Ruby wants is a romance. In fact, after all she has been through, she can't imagine she will ever believe in love again.
Police officer Drew Noble has no intention of staying in Bunyip Bay - he is just an outsider seeking temporary refuge. But as the charm of the town sways him, Drew finds himself increasingly drawn to the community and its inhabitants, as well as another newcomer, the lovely Ruby Jones.
When Drew investigates a suspicious fire at Ruby's parents' business, he finds himself feeling strangely protective of the girl with the flowers in her hair. As the details of Ruby's past emerge and she comes once more under threat, Drew realises he will do all in his power to save her.
Soon these outsiders discover they have both lost their hearts - not only to the town but to each other.
And Alissa Callen with BENEATH OUTBACK SKIES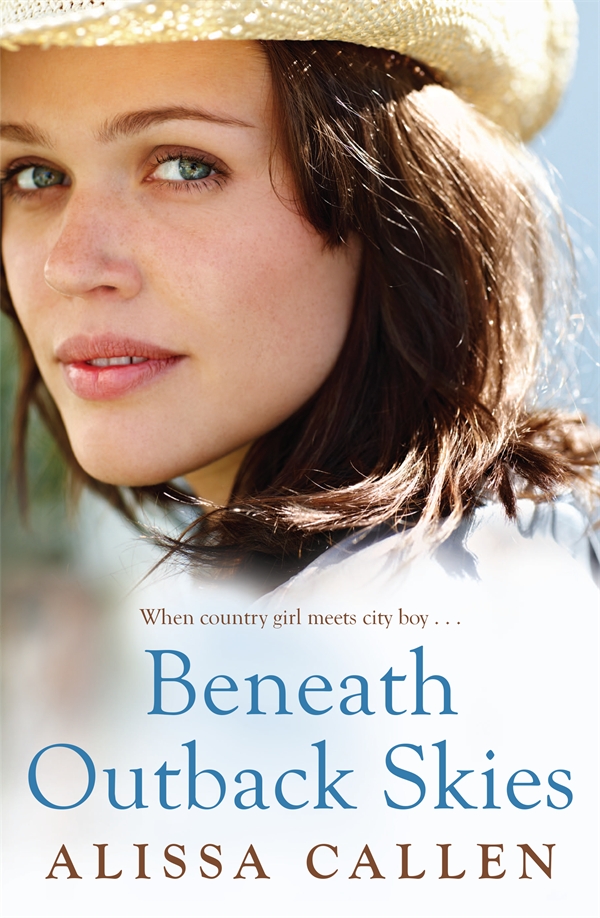 A captivating rural romance featuring an indomitable young woman determined to save her family farm, and the city-boy who is not all he seems...
Paige Quinn will let nothing and no one distract her from caring for her wheelchair-bound father, Connor, and fighting for her remote, drought-stricken property, Banora Downs. Least of all a surprise farm-stay guest named Tait Cavanaugh, whose smooth words are as lethal as his movie-star smile.
Except Paige can't help noticing that, for a city-boy, Tait seems unexpectedly at home on the land. And he does ask a lot of questions…
It doesn't matter how much he helps out or how much laughter he brings into her life, she soon suspects he is harbouring a big secret – the real reason he has come to Banora Downs… 
All these rural books, receiving fabulous reviews,  are hitting the shelves in time for Mother's Day.
Fiona Palmer also has a new release, a young adult novel called THE RECRUIT (available as an eBook only). You could gift a voucher?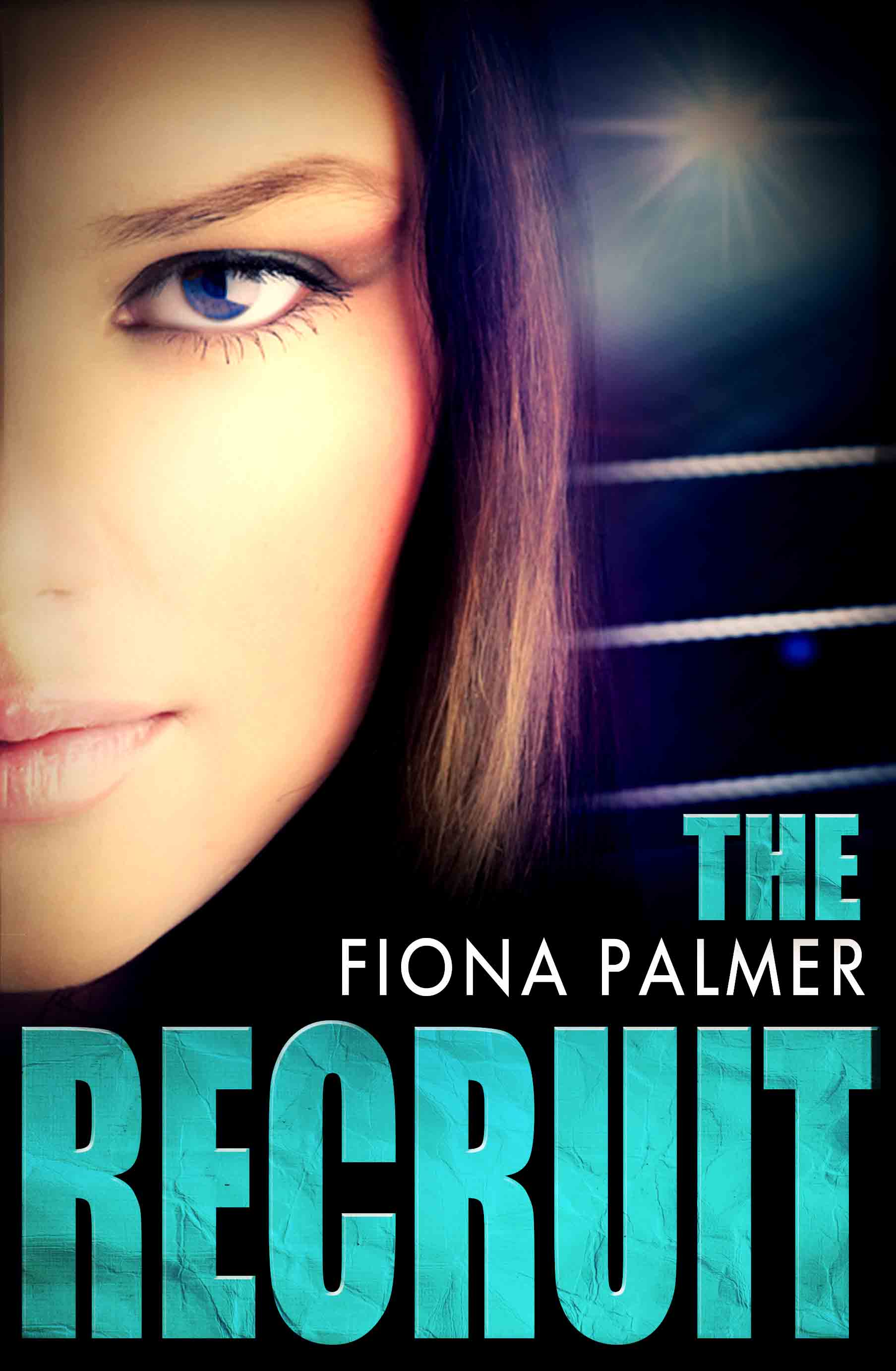 From one of Australia's Queens of Romance comes the debut in a brand new YA series about secrets, strengths, and what lies beneath the surface.
Jasmine Thomas may not be completely normal, but she's a pretty typical seventeen-year-old girl. She hates the rich mean kids, loves her best friends, and can't wait to get out of school each day. Her spare time is spent at The Ring — a boxing gym where she practically grew up — learning karate, boxing and street fighting. So, yeah, Jaz can kick some major butt.
Life seems pretty normal until the day Ryan Fletcher enters her gym…mysterious and hot with heaps of bad boy charm. Sure, she checks him out. Who wouldn't? But what doesn't show on his gorgeous abs are secrets and lies that dominate his very grown-up world. Now Jaz has to figure out just how far she is willing to go to know more. Could Ryan really be offering the life-fulfilling life path she's always dreamed of?
The first in the MTG Agencies series.
I asked these lovely girls what they'd like, or like to give, for Mother's Day.
Cathryn Hein responded with, 'My mum has Alzheimer's and lives interstate, which makes Mother's Day hard. The phone is difficult because it is so easy for her to forget who she's talking to. The trick I've learned is to say 'Mum' as much as I can. So that will be my Mother's Day gift to mum. The reminder that she has a daughter she loves and who loves her.'
How beautiful is that?
Rachael Johns, a mother to three 'hero's in training' had this to say, ' I'd like to spend Mother's Day with my boys but I'm going to be in America this Mother's Day and we're all a bit sad about this. What I might give my mother (I hope she doesn't read this Rach!) is one of those electric blanket throw rugs as I adore my electric blanket and her house is VERY cold in Winter.'
Nice.
Fiona Palmer would 'like a good book and time to read it!'
A girl after my own heart.
While Alissa Callen told me, 'I'd love my older kids to be home from boarding school and to have a special family dinner that I didn't have to cook. I'd also love plenty of chocolate, my weekend washing to do itself and a quiet hour to curl up with a book.'
Ahhh... it all sounds divine, doesn't it.
Flipping sideways for a minute now ... (if you know me well enough, you'll know my brain is not geared for straight line thinking ...)

Another heart warming read to consider for Mother's Day is a delightful new release from Deborah O'Brien (who brought us, MR CHEN'S EMPORIUM). Although not specifically 'chook lit'  (good Lord, did I just use that term?), this one could easily jostle for space on your rural shelf. (Yeah, yeah, yeah, I know you guys all have a rural shelf that's as jam packed as mine
). 
A PLACE OF HER OWN has the most gorgeous cover. (I am having a serious case of 'jealous cover love' over this one. I have no particular idea why, it just warms my soul.)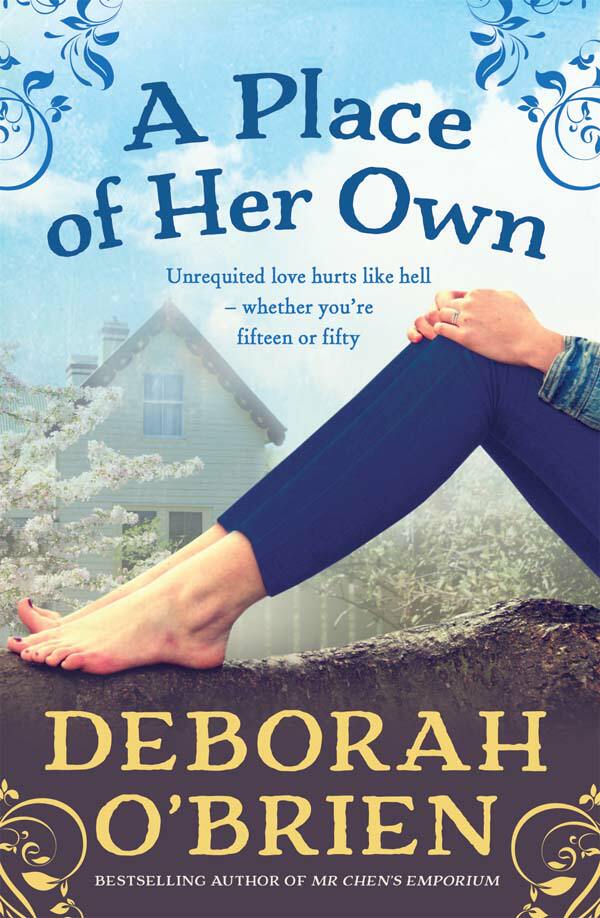 A compelling novel of starting over from the author of Mr Chen's Emporium. Eighteen months ago Angie Wallace thought her world had ended. Now she's fighting off suitors – and facing a crisis she never saw coming . . .
'Unrequited love hurt like hell – whether you were fifteen or fifty-something.'
Following the death of her beloved husband Phil, Angie has made a new life for herself in the enchanting gold rush town of Millbrooke. The proud proprietor of the Old Manse B&B and a fierce protector of local history, her transition from 'blow-in' to bona fide Millbrooker is complete.
She's even fallen for the erudite but scruffy Richard Scott, owner of Millerbrooke House.
But just as the relationship between Angie and Richard seems to be blossoming, a woman from his past arrives back in town – and turns their world upside down.
Because Diana Goodmann isn't all she seems, and when Angie vows to unearth the truth about her rival she finds herself a long way from home - and in very grave danger. 



Regardless if you manage to get over the line presentwise or not, from me to you, I sincerely hope you have a beautiful and happy Mother's Day surrounded by all those you love.
With love
M xo