Mountain Ash Launch Night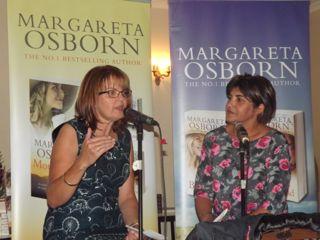 MOUNTAIN ASH is officially launched! Ya HOO! Over 100 people joined me last night at Duart Homestead, Maffra to celebrate the release of my third print novel. And what an evening it was too!
| | |
| --- | --- |
| | First up I had to get my hair done, which is always a laugh as one of my best mates (Sandra) is the woman in charge of making me presentable on such occasions. As it is a well-known fact amongst my friends, I am absolutely hopeless with hair, it was quite hilarious Sandra let me loose with a curling gadget to curl her hair for the evening to come.  |
| | |
| --- | --- |
| All coiffured and hair-sprayed to within an inch of my life, it was homeward bound to dress for the big night. Add makeup, jewellery, painted toes …  | |
… and we were ready to go!
| | |
| --- | --- |
| | Our daughter was excited. |
There were over 100 people packed into the homestead's reception room. 
The food was absolutely delicious.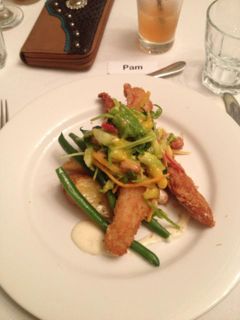 The guests were out to have a great time.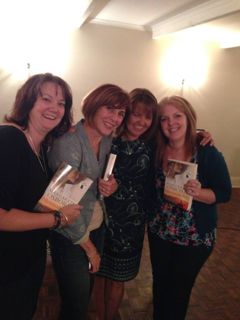 Meanwhile in Singapore, our friends were having a party of their own on my behalf.
A beautiful cake …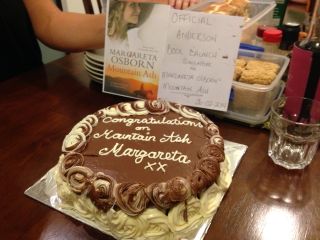 Back in Australia …
| | |
| --- | --- |
| | Celine Foenander from ABC Gippsland and I perched up on a pair of bar stools, and proceeded to have an even better time!  |
We spoke 'in conversation' about MOUNTAIN ASH, and it was enough to tease yet not give all the twists and turns away. Some of the topics we covered included the characters, inspirations for the story, how I researched different aspects of the novel. Celine was just fantastic and really knew the story having read the book and 'loved it!' (She said that. True!)
| | |
| --- | --- |
| Sometimes I let my hands do the talking. | |
| | |
| --- | --- |
| | Sometimes I forgot I was sitting in front of so many people. (Phew! We got through that bit without mentioning the sex scenes.) |
| | |
| --- | --- |
| And sometimes I was trying to be serious … but obviously it wasn't working.  | |
Two happy ladies after the event, delighted the 'in conversation' had been received so well. Can I say again just how fabulous Celine was?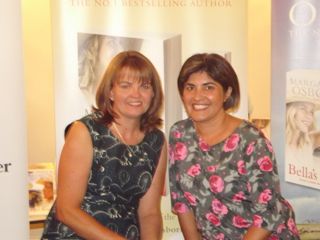 Signing, signing, signing up to twelve books for the same customer! My fellow Gippslanders really support their home-grown authors!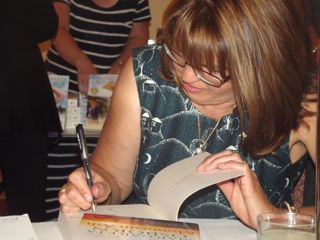 Me with MOUNTAIN ASH along with my stunning new banner courtesy of my very talented graphic designer, Cathy along with Dee at James Yeates Printers.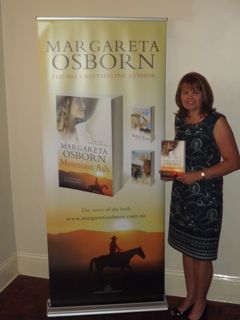 | | |
| --- | --- |
| | And here I am with the wonderful and supportive owners and staff of Collins Booksellers, Sale who organised the night – Trevor & Liz Watt along with Jayne Weatherley and Tanya Lawrence. Thank you so much! |
| | |
| --- | --- |
| The stunning bouquet of flowers my gorgeous friend Andrea gave me to celebrate the arrival of my third novel, MOUNTAIN ASH into the world. | |
The night of MOUNTAIN ASH's release was truly one of my life's most memorable occasions.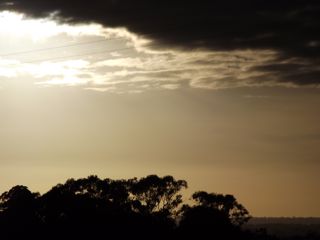 Thank you to all who attended, laughed and celebrated with me. Thank you to all who commented and sent their best wishes. Thank you to Celine Foenander who was one of the best interviewers I have ever had the pleasure of working with. Thank you to my gorgeous husband and children who support me in this crazy life.
Thank you to one and all.
I sincerely hope you love my new novel, MOUNTAIN ASH.