My Country Kitchen - His Birthday and Boiled Chocolate Cake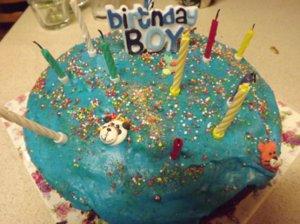 It was my beloved husband's birthday this week. My present to him was my most favourite thing in the whole world besides him, my kids, the dog, my family & friends, the farm ... I got him boots. Motorbike boots though rather than the other kind I like (Ariats forever). He loves them, which ultimately equates to brownie points for me. My birthday's still to come. You have to think ahead with these things.
And of course you cannot have a birthday in our house without a cake, a family gathering, a table load of food, some alcohol, and a whole lot of banter and laughter. The birthday boy (or girl) gets to choose the cake. Most choose a marble cake, some an icecream cake, others a sponge, and once, I even had a request for a giant 'rum ball without the rum cake'. It looked amazing albeit a tad over the top. The birthday boy on that occasion was my nephew Patrick, and he was in seventh heaven.
But H's request was chocolate cake, because in his words 'I have rum, chocolate cake and my wife, what else does a man need?' Awww … isn't he nice, (although I did notice I came third
)
So in my country kitchen this week we're making a Boiled Chocolate Cake.
Now H first thought I meant you boil the ingredients rather like a steamed pudding. He was wrong for the second time in his life and the first time he was mistaken. (Or so he assures me ...)
This is such an easy, peasy cake recipe.
Using a nice biggish saucepan, your heavy metal tablespoon (from last week's jelly slice), and your pretty measuring cups (from last week's jelly slice) follow thus:
| | |
| --- | --- |
| (Ahem…what is H's rum flask doing in this recipe?)   | My tablespoon in case you'd forgotten. |
Tip into saucepan:
1 cup of water,
2 tablespoons of cocoa (my tablespoon is such a versatile thing),
½ teaspoon of Bi-Carb soda,
125 gms of yummy, creamy yellow butter which it pays to chop a little first so it melts easier.
                                      Chopping … chopping …                                                                                    
A lovely bunch of ingredients
And here we take a break.
Load a song onto your ipod/cd player. This week I think it should be something like Birdy's Skinny Love, because next into that saucepan goes
…  1 ½ cups of caster sugar.
(I know. I was so embarrassed I didn't photograph that bit.)
Stir all ingredients with your heavy metal tablespoon over a low heat until butter has melted.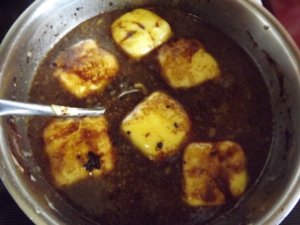 Bring to the boil and watch it like a hawk otherwise it'll boil over (you'll really hate me if that happens) and then simmer for a few minutes.
| | |
| --- | --- |
| Simmering ... | About to boil over ... |
Once boiled, take the saucepan off heat. Let the mixture cool. Go outside and sort out Lucy the dog, who is dragging Winkie the cat around by his ear, cue woeful meows and happy yips ... (The cat lets her do this, mind you.)
Back to the kitchen. When cooled (it doesn't take long) I tip the mixture into a large bowl. If you have a big enough saucepan you shouldn't have to do this.
Mix in 2 beaten eggs (don't be tempted to pour eggs in while mixture is still hot or you'll have fried egg floating in your cake.)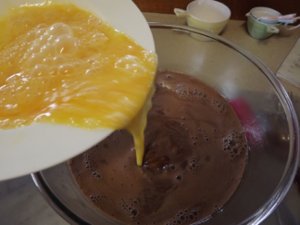 Mix in 1 ½ cups of sifted Self Raising flour. (You've got to sift it first otherwise you'll end up with flour lumps floating in your cake.)
| | |
| --- | --- |
| Sifting ... | Pouring... |
(I have no idea why that rum flask keeps photo bombing - there's none in the cake ... although the cook... ahem...)
Stir cake mixture until all ingredients are combined. It should look like this with lots of lovely big air bubbles floating around. (Air bubbles are good floaters for cakes, not like those flour & fried egg lumpy things.)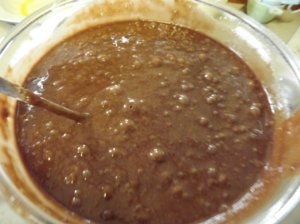 Tip mixture into a greased cake tin. (I use a greased, spring form cake tin and line the bottom with baking paper.)
Bake in a moderate oven at 180 deg C for 1 hour.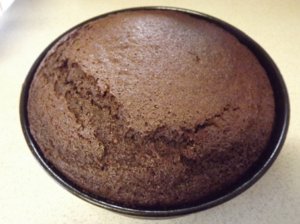 I know. It's not show standard because of the crack, but remember, icing hides a multitude of sins. The crack itself we could blame on the flour, the oven, the dog and cat fighting, the sheep who got through the electric fence, the cattle that were in the creek or ... the rum flask ... ahem.
In these photos I made a double mixture, as I have found this cake doubles really well. You'll just need to use a bigger saucepan and cake tin. This double mixture cake was made in a 26cm spring-form cake tin. 
And if you go for the big cake, you'll need to play Birdy's 'Skinny Love' really LOUD as you tip in 3 cups of sugar. Sigh. (You might need that rum flask after all.)
This was the finished product. My 8 year old daughter chose the 'aquamarine icing' and she and her 10 year old brother were the decorators. I thought they did a rather nice job 
This is a deliciously moist and airy cake, you, your family or stock camp will love.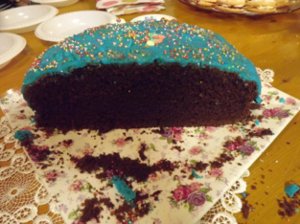 As evidenced by all the crumbs ... ENJOY!