My Country Kitchen - Jelly Slice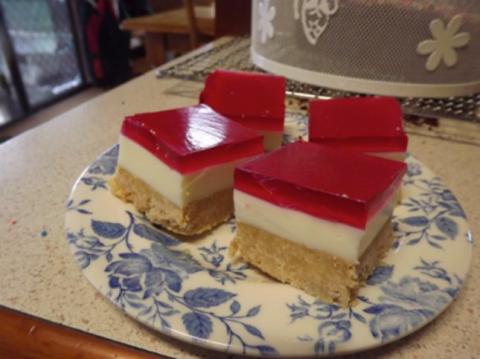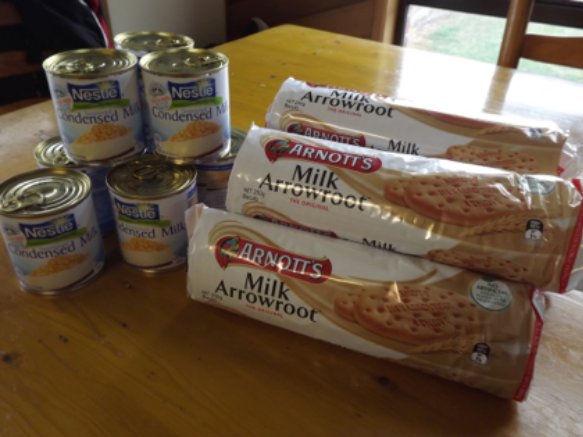 I have decided there are three ingredients that I can't do without in my country kitchen. They are butter (butter is better, or so says the dairy-farmer's daughter), eggs (used to be our own until the chook house floated downstream in the last flood.) Arnotts Milk Arrowroot biscuits and condensed milk (I LOVE condensed milk). Therefore when the last two are on special at the local IGA supermarket, I buy in bulk.  The butter I get from Murray Goulburn, the eggs from a local farmer.
Another essential thing you need to do in the making of this recipe is grab your music / cd player and turn on Beautiful Noise by Lee Kernaghan. This can be interchanged with another artists but they must have a song about planes. I'll get to that …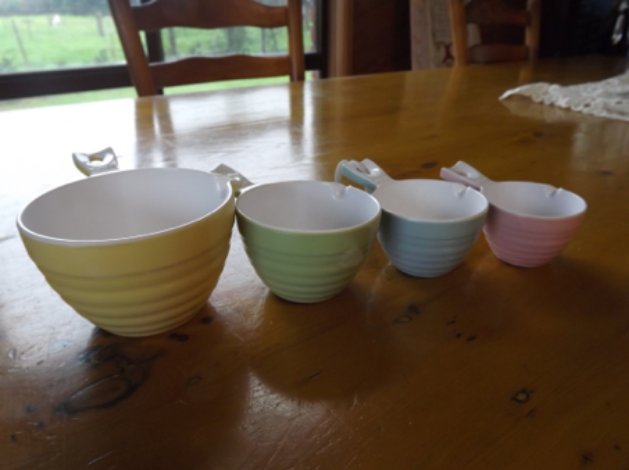 There are also two handy items to have hanging around when you're cooking with me. One is a set of measuring cups. I don't use them all the time because I'm a kinda 'oh, that'll do' sort of a cook. But when you really need to be exact, they're very handy. Plus they look good on the bench. Aren't these pretty?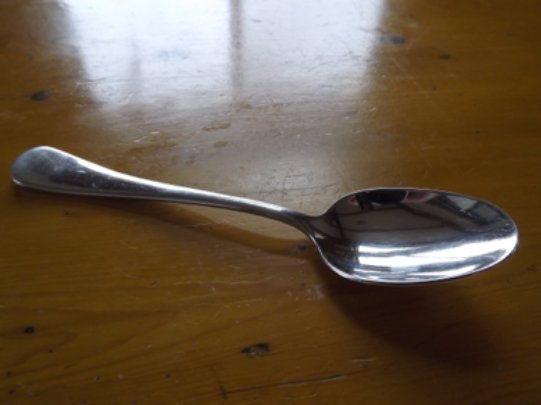 The other holy grail of my kitchen is the heavy metal tablespoon. My mother had one, my grandmother and her grandmother before that. All so old and battered you knew they had been loved to death. It took me while to find my own, but when I did, I bought two of the little suckers. This will be my bequest to my daughter. You just gotta have a good tablespoon.
Now, on with the recipe.
Take one packet of Arrowroot biscuits and crush into fine powdery crumbs. See Notes in previous No Rum Ball recipe on methods how to do this. Melt and mix 8ozs (or 250gms) of butter in microwave and pour over biscuit mixture. Combine well using your heavy metal tablespoon.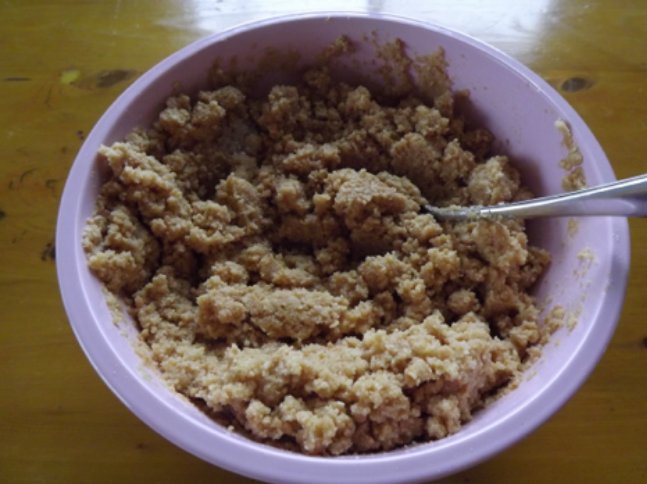 (I have pretty bowls that match the pretty measuring cups. See me dancing with glee?)
Press mixture into a slice tray with the back of your heavy metal tablespoon (see how important it is?), until smooth and place in fridge.
Next, take one can of condensed milk. Pour into mixing bowl, using a knife or spatula to scoop out the dregs. Lick the spatula.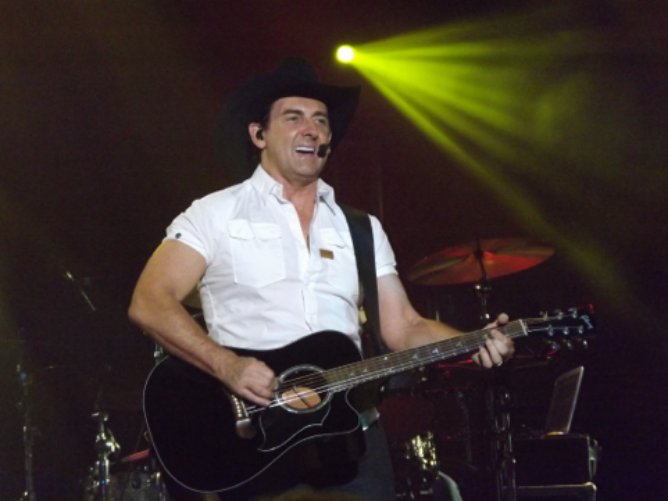 (Sigh …)
Boil kettle and dissolve 4 teaspoons of gelatine in 1/2 cup of boiling water. Add to condensed milk and stir with your heavy metal tablespoon.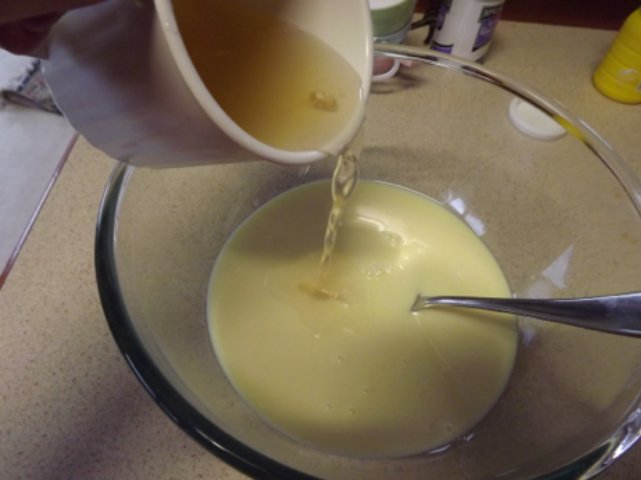 Add the juice of two lemons. If you don't have fresh lemons, squirt in a generous portion of bottled lemon juice (Yep, I didn't know it came in a bottle either until recently). Stir mixture with your heavy metal tablespoon, until thickened. (This where you use the 'taste test'. Stick your finger in the mixture and taste to make sure it's lemony enough.) It should look kinda bubbly after you put in the lemon, like this ….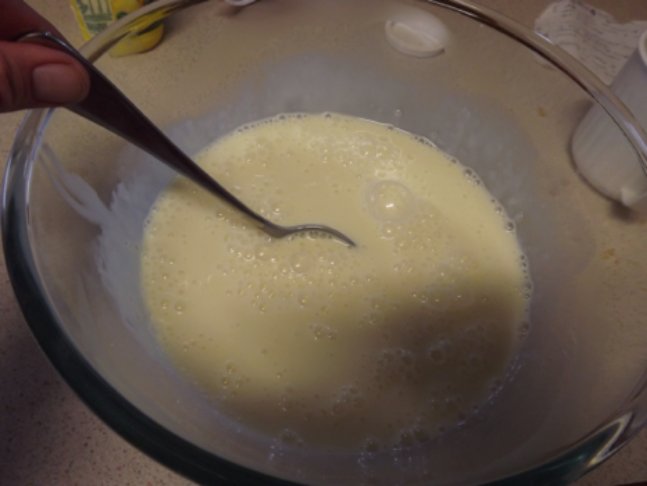 Then it thickens to this …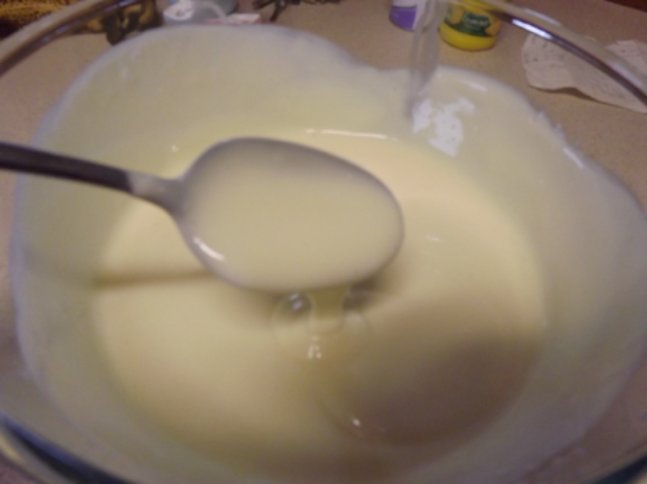 Pour over biscuit mixture that has been resting in slice tray in the fridge.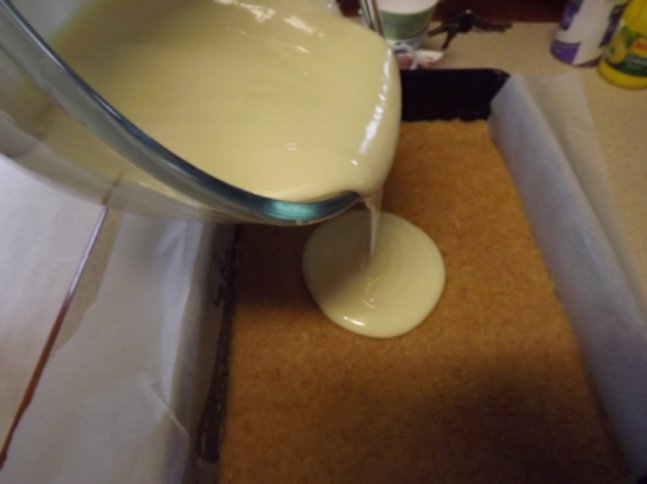 Let both layers set in fridge again for ten minutes or so until when you gently touch the top of the white stuff it dimples.
Now go to your Beautiful Noise playlist and load Flying with the King. Turn it up real loud. Make buzzing noises, put out your arms and fly around the kitchen with Lee and Slim …
Then …
Take one packet of raspberry Aeroplane Jelly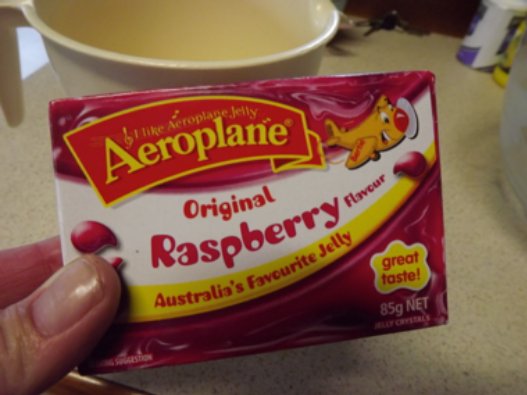 Make up your packet of red Aeroplane jelly (buzz, buzz Ansett 603)  using 1 cup of boiling water and 1/2 cup of cold water (you can also use 1/2 cup of ice cubes instead if you're in a hurry like me).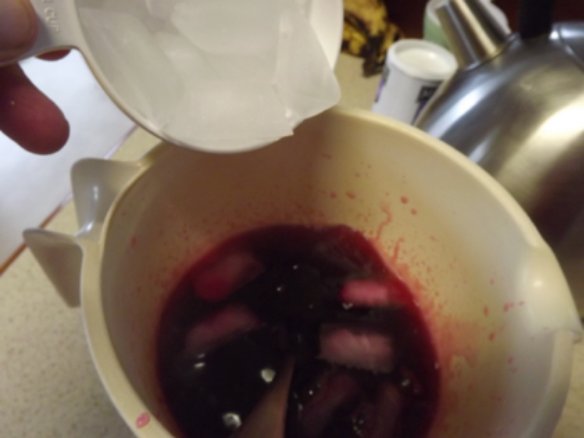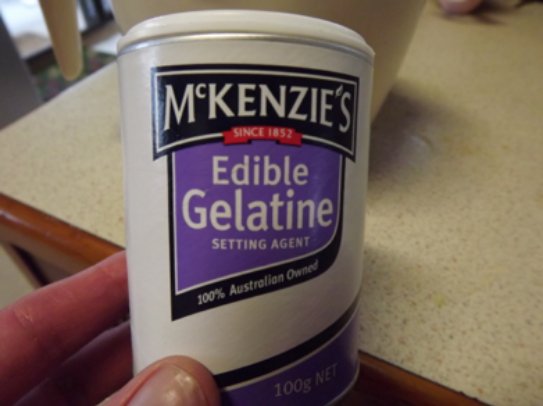 MOST IMPORTANT: Add 1 desert spoon of gelatine to jelly mixture before you pour in hot water. This stops the jelly from sliding off the rest of the slice. You don't want to be the one that loses your top. (Unless you're standing next to Lee …)
If jelly is warm, place in fridge to cool. But for heavens sake don't forget it otherwise it'll set and the kids will get dessert, but you won't finish off your slice. That makes the kids happy, me very cross. Especially if I've flown all out of jelly crystals.
Pour red jelly over top and pop tray back in fridge to set.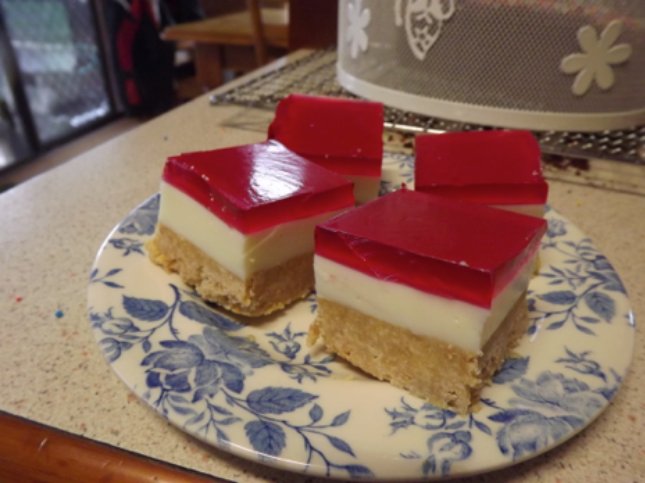 NOTE: In these pictures I doubled the mixture and made the slice up in a lamington tray. This is what you need to do at my place to get the slice to last any longer than a day. A plate goes right at the front gate to my Great Aunt who's 91 and loves home cooking. Another plate goes left at the front gate to my 74 year old uncle who also loves home baking but doesn't cook. And then there's my kids … enough said.
You can also make a Christmas version. Just make up one packet of GREEN jelly using the same method, which you pour on top of the red jelly once it's set. The outcome of green jelly on red is the slice looks like it's red from the top, but at the side or when it's up against the light you get a stained glass window of festive jelly looking right back at you. It's just beautiful. Especially if you set the slice out on a plate and alternate with Chocolate Royal 'Plum puddings'. (In this picture, chocolate royals, green mint leaves, red raspberry lollies and white icing or white chocolate).