Peppermint Crisp Slice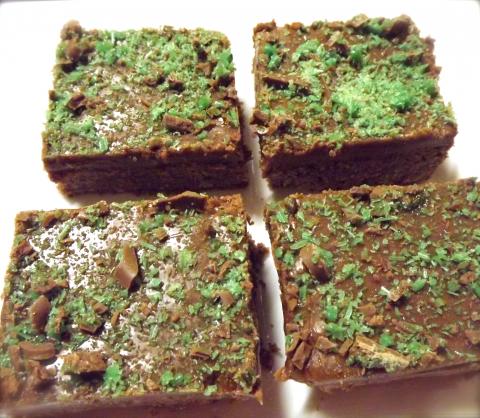 A while ago, a cry went up on Facebook in a number of places for some ideas for children's lunch box/smoko recipes. I thought I'd share this one with you. It's a fantastic slice which can be adapted to suit the contents of your pantry and a myriad of tastes.
The yummy delight below has had many lives. It started out as my grandmother's chocolate coconut slice, but over the years it has evolved into anything I've wished it to be. You can cook it 'Plain Jane' (iced with chocolate icing and sprinkled with coconut) or topped with peppermint crisp (the favourite way in our house). You can also grab two peppermint crisps, slice/scrunch them up with a big knife. Mix one peppermint crisp into dry mixture and reserve the other until after you ice the slice (must be iced while warm) and sprinkle it over the top. This just gives the end result a more peppermint-y (is there such a word?) taste. You can also use Cherry Ripes, Crunchie bars, Turkish Delights … take your pick. All fabulous reasons why this is one AWESOME slice.
Awesome Chocolate Slice
½ cup caster sugar
2 desertspoons cocoa
1 cup Self Raising flour
1 egg, lightly beaten
1 cup coconut
4 oz butter plus a smidge more
Melt butter (I use the microwave)
Mix other ingredients together and add melted butter, followed by the egg.
Press into a flat slice tin and cook in a moderate oven for approx. 10 minutes.
Ice with chocolate icing while warm (better done then so icing really 'sticks' to slice). Sprinkle with shredded coconut or chopped peppermint crisp or cherry ripe or crunchie or … whatever you prefer! Set in fridge.
Just for the record, I have also made this slice without cocoa and added a few drops of peppermint essence into some vanilla icing. This adds to the taste of the peppermint crisp sprinkled on top.
Just about anything goes with this recipe! Enjoy.