Winter is Nearly Behind Us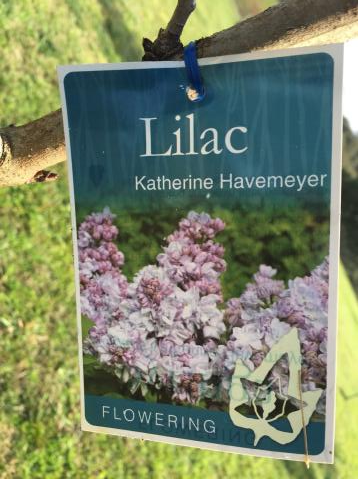 All I can say is thank goodness, winter is nearly behind us. After the warmth of the Pilbara, this time last year, I can categorically say, 'I loath and detest the southern winter.' I am currently dreaming of sun and nice days. Thankfully I have been noticing the wattle is going mad, blazing a brilliant gold in both our paddocks and along the sides of the roads. This usually hails the impending arrival of Spring but I will be having some strong words with the weather if it doesn't come true with that promise. I NEED SOME WARMTH UP HERE ON MY HILL! 
The children have had me running ragged with sporting and school commitments, traveling up to a 1000km per week. My poor little car is nearly past its use by date, but it keeps on chugging, like 'the little red engine that could.' A zippy little diesel Peugeot known as 'The Pug', my car sometimes doubles as a ute. It has certain idiosyncrasies. On any day, only IT decides whether the boot will open. Or not. Whether the side windows go up, down. Or not. It hates frost and threatens to leave me at home if the ice is too thick. It has distinct ideas on whether it will allow me to drive over check-banks and to check hay-rings. Some days it wants to, other days no siree. There's no rhyme nor reason and just quietly, 'The Pug' drives me nuts. I'm sure it's fickleness is to get back at me for taking it's classy, little European soul off the tar and along beaten bush tracks, down rocky hills and up grassy, cow poop covered slopes. But that's beside the point 

.... Deep down, I do love my little car - plus the fuel it saves on the long drives is amazing.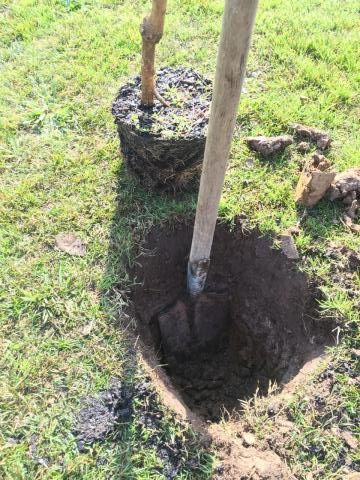 I've been madly planting deciduous trees, camillas and roses this year. A gorgeous deep pink flowered Magnolia, is a highlight (please grow!) as is the potential of a light mauve lilac, similar to one my Grandmother used to have in her garden at the family homestead. I was cursing the lilac though. I swear I must have been close to China, I had to dig down so far to get the graft under the soil. A very strict nurseryman instructed me that was what I had to do, so after digging through a half foot of topsoil, followed by a half foot of stone, and then a foot of clay, I finally got deep enough. And that was after I'd rescued my wandering sheep from the grips of a buckled fence that decided enough was enough.
It was 'a cup of tea to recover' kind of morning, I can tell you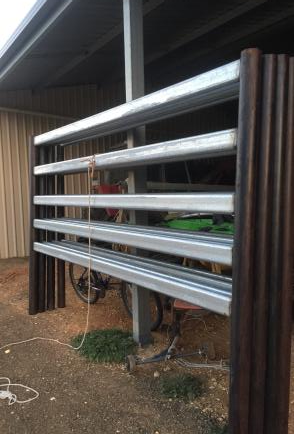 Out in the shed, the boys are building panels for our new cattle yards. H never ceases to amaze me at his ability to build just about ANYTHING and the Farm Boy is following in Dad's footsteps very rapidly. They've made a jig to make the construction of the panels easier and soon we will move the whole operation up to the yard site. We've finalised the design and I can tell you, my little farming heart is fluttering with SO MUCH EXCITEMENT! (#onlyinthecountry ...

)
In the office, the edits on LAKE HILL are coming along, and whilst I'm outside working in the garden or spraying weeds on the farm (which are popping up EVERYWHERE – maybe Spring and it's warmth wasn't such a good idea after-all …) ideas for the next two books are flying around in my mind. Well, except when I'm tackling boxthorn. All thoughts then have to be on the sharp barbs which persist in trying to tear me to shreds. As always, it's a busy place both internally and externally around here!
Last week, I headed to a local primary school for the afternoon to chat with some children on the importance of reading, writing and editing. They were a great bunch of budding authors and had some awesome questions for me to answer!
Recently I was also involved in two book talks. One, a discussion alongside the gorgeous and very talented thriller author, Honey Brown, at the beautiful Readers Emporium Bookstore in Traralgon on the importance of our local bookstores, and the other, a talk to a large group of women involved with the Sale Probus Club. We chatted about the publishing process and the effort it takes from a vast variety of people to get novels onto the bookshelves.
Speaking of bookshelves, Better Reading would love you to nominate your all-time favourite book – and by voting, you could WIN the entire final list! That's 100 BOOKS for your bookshelf. (Swoon … Don't you adore a good book competition? I do!)
I'd love it if you felt like considering any of my books (Bella's Run, Hope's Road, Mountain Ash, or Rose River) for the list. But, if there is another novel you love above all others, please, by all means, vote away. ONE HUNDRED BOOKS … wouldn't it be amazing if one of us won?!
Voting closes 31st of August 2016 at 5pm, and winners will be announced on the 9th of September 2016.
Voting is easy. Just click here: http://www.betterreading.com.au/top-100/
And speaking of winning books. A while back, before I went into winter hibernation for family reasons, we mentioned we had a beautiful and fascinating book to give away! It's been sitting here patiently on my bookshelf, waiting for its new owner.
I'm absolutely delighted to let you all know that Freda Marnie Nicholl's latest book, THE AMAZING MRS LIVESEY, has been won by DENISE GARTLAND. If you'd like to contact me via this link within the next 48 hours, with a delivery address, I'll post your new book out.
Until next time,
Margareta