Wrapping up the Lake Hill Book Launch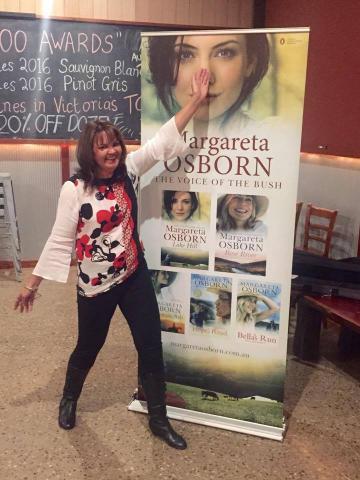 First up, I want to thank you for all your good wishes on the launch of LAKE HILL from the very bottom of my heart. For those of you who have bought my new book already, huge appreciation for investing your time and money in my words, and for those of you making lists for a Mother's Day present, maybe you could suggest LAKE HILL? ;)
What an incredible night we had at the LAKE HILL Launch! IT WAS A SELL-OUT! We couldn't fit another person in the room and I can't even BEGIN to tell you how much fun it was. So many people, such a lovely space to gather, divine wine and pizza, books being signed and on their way to new loving homes … it was a mecca of goodness, and we all had a fantastic time. Huge thanks go to Liz and Trevor from Collins Booksellers, Sale along with Catherine & Al at Blue Gables Winery for organising it all.

Here's a few photo's of the night, where my mate and rural journalist Jeanette Severs and I had a chat. We succeeded mightily in not falling off 'the stage' laughing and disappearing into one of the surrounding hay bales. We discussed LAKE HILL and the inspirations behind the book, chuckled ourselves silly over sex scenes and Lee Kernaghan (Yes! It jolly well came up AGAIN! Hangs my head in shame …)
| | |
| --- | --- |
| |   |
The East Gippsland Field Day's were also a huge success, with many of my Lardner Park regulars visiting the Just Books stall to get their books signed. These wonderful and supportive readers are creating 'a signed set' and I am starting to get to know them well. There were new babies (Carmen, so lovely to meet your gorgeous little girl), Dad's and kids being dragged to field days kicking and screaming (so not) for their wives to get their books signed. One lovely fellow, Bill, even advised me on which cattle crush to buy. Sure enough, he was right, so if you're reading this, Bill, I followed your advice and the crush will be delivered on Monday. Thanks so much!
From this week onwards, I'm on a lovely road trip around my home ground – Gippsland – over the next little while, plus throwing in a couple of pre-Mother's Day book signing at two city bookstores, so it's going to be a busy, but fun time.
We kicked off the journey in Heyfield on Wednesday where over 40 people turned up for THE most DIVINE afternoon tea and listened to me chat about the inspirations behind my new book, and how to "never say never. We only get one life. Get out there and tick your bucket list while you can."
Next week I can be found chatting and signing books in two places. First up will be THE best café in Gippsland (in my (not so) humble opinion!), the stunning Café 3847 & Co in Rosedale, where some ideas for my café in LAKE HILL originated. You can understand how delighted I am to be holding a book launch there! This in on Wednesday night (May 10) at 7pm. Booking can be made with Andrea and Mark at the Readers Emporium, Traralgon (phone: 51764620).
On Thursday evening (May 11) from 7.30pm I will be at the Onyx Café, 61 Breed Street, Traralgon, chatting about LAKE HILL. Booking for this event can also be made with Andrea and Mark at the Readers Emporium, Traralgon (phone: 51764620).
Think, Mother's Day treat. Think, new book to read. Think, I can get it signed by Margareta! I would adore seeing you there.
And can I just quietly add here that I was shouting with joy and dancing around in my horse paddock on Friday morning, when I received the news that despite LAKE HILL not being officially released until Monday May 1, IT HAD ALREADY GONE TO REPRINT!
OMG, the horse, dogs and chooks thought I'd gone nuts!
For those of you who have already downed the book like a delicious hot chocolate, can I ask you to post a review? That's if you enjoyed it, I guess … ;)
Reviews at all sorts of places (LibraryThing, GoodReads or your online retailer / private blog) really help authors with their books, and we sincerely appreciate it when readers take a few minutes to comment on our work, which might encourage others to pick up LAKE HILL or any other book you have read recently and enjoyed. (Let me know via the contact page above and we'll happily link to your review as well!)
Until next week, Happy Reading!
Love and many, many thanks,
Margareta